Guest Poster: Ro Laren
Due to my inability to obtain a date last last week's
Enterprise
Valentine Ball, I have visited the
Interstellar Love Dating Agency
. Felicity, the lady there tells me that she will send me the name of a date, and we will meet.
-------------
I get a call.
"Lucky you!" says Felicity, "You're going on a date with Brad Bullett! He's agreed to meet you at the Starfleet Mall open air restaurant tonight. Have a copy of the
Galactic Gazette
with you, and he'll meet you at 19:00 tonight."
I agree, and get ready for my date. It's been a while since I've been on a blind date. The last one was literally one, as he had his guide dog with him.
-------------
A few hours later, I'm sitting in the Mall restaurant, looking at all the passing people, wondering which of them is the one who will meet me. I start looking at the
Gazette
again.
"Hey!" says a voice, "It looks like I've hit the jackpot here. What a babe!"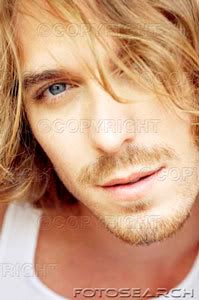 I am greeting by a long haired scruff wearing a vest and torn jeans.
"Mr Bullett?" I ask nervously.
"Hey, babe, it's Brad to you." says Brad, "Only my close friends call me that, and we soon will be."
"Sorry?" I asked, slightly puzzled.
"Now, what shall we do, Ro, honey?" Brad asks, "We can eat at the restaurant and then go straight to my place."
"What do you mean?" I reply.
"Ah, I see." Brad says in realisation, "You like to take it easy. Right, we'll go bowling, then to the restaurant, and THEN to my place!"
"I think you've got the wrong idea, Mr Bullett." I tell him.
"Whoah!" Brad says with a filthy laugh, "I see what you mean, Ro. You mean straight to my place. I always like a direct girl."
"Mr Bullett." I say with growing impatience, "I have no intention of spending any time at your place."
"You might be right." Brad says, after some thought, "My wife might catch us. We'd better go to your place."
At this, I pick up the drink on my table and pour it over Brad and walk away.
------------
I get on my phone and complain to Felicity about sending me a married man.
"Sorry about that." she says, "We'll send you another date right away."
Half an hour later, I am due to meet Neville Meek in a coffee bar. I walk in and see a strange figure in a golden suit, holding a bunch of flowers.
"T-these are for y-you, Miss Loren." he says slowly to me, "I'm Neville Meek."
"Hello, Neville" I say to him, accepting the flowers.
"Can we go to the soda shop for a soda?" he asks.
"Sure" I say, "We have quite a while."
"Well, actually we don't." Neville replies, "My mom has ordered me back home within an hour. She also tells me not to kiss you goodnight as I might catch something."
I sigh.
"Neville, I don't think this will work out." I tell him, "I think you ought to stop relying on your mother, though. She might be holding you back."
I kiss Neville goodnight, which sends him into a panic.
-----------
After I leave the shop, I get on the phone to Felicity again.
"Now look." I tell her, "I don't know where you're getting these dates from, but there are clearly not suitable for me. Find someone more to my liking!"
"Very well, Miss Loren." Felicity replies, "We'll find someone ideal for you."
To be continued...