Guest Poster: Ensign Britney
Now that me and my number one friend T'Pol have checked in on the Vardez Paradise Planet, it's time do do some serious clubbing!
"We didn't come here to have a relaxing, peaceful time, sista!" I tell her, "Let's make an impression on these folks and make sure they remember us."
"I'm sure they will." replies T'Pol, "Let's see what we find tonight."
I put my brown wig on, and get a skimpy dress on. Ideal for a fun time.
We approach the door of the 'Paradisio Sector Disco'. The place known for it's raucous behaviour. It looks ideal for T'Pol and myself.
"Come on, T'Pol." I say, "This looks like the place to go. She is somewhat reluctant.
"I'm not sure if this is suitable, Britney." she replies, "These sort of locations were forbidden in the Terran Empire in the mirror universe."
"Then you need a little educating, babe!" I say with a smile and pull her towards the door, where there is a burly guard. He looks at me.
"Are you a Deltan?" he asks me, "We don't let them in as they are noisier than even we can tolerate."
T'Pol rushes forward and throws the guard on to the floor.
"You will let me and my friend in!" she demands, and we walk in.
T'Pol is a great friend!
I walk through with her, and soon we see the main area.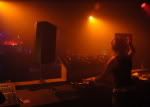 Everything is a well over 100 decibels and we can barely hear ourselves think. Lovely!
The music is all the latest sounds with songs like
Cling On, Klingon
,
The Romulan Boogie
and
The Starship Hustle
.
The drinks are flowing freely and I'm hitting the Romulan Ale big time.
"I am not sure I should partake in this level of alcohol." says T'Pol with a worried air.
"Don't worry, sista." I reply, "Have this glass of Klingon bloodwine. You'll feel different afterwards.
After she drinks it, I see T'Pol drink another right away...then another....then another.
Even I can't do that!
Not long after, I am looking for T'Pol; I see her on the stage.
She is holding on to one of the loudspeakers and singing away.
"Get on your starships, yay!Dance the night away!Warp Factor Ten,I'm in Heaven again!Yeah, yeah, yeah!"
Five burly guards come up to us.
"Right!" says one of them, "You two are getting thrown out of the club and off the Paradise Planet. It's types like you we don't want around here"
In a matter of half an hour, we find ourselves taken from the club, our clothes from the hotel gathered up and taken to the shuttle point to be escorted off the planet.
"Your Captain shall hear of this." he says.
Sigh. It looks like another spell in the brig. At least I'll have T'Pol with me.