Author's note:
See Parts One to Four for the background to this story.


--------------
The boys and I are on the way in the shuttlecraft to Vasra VI where we are going to grab the Disana Jewels. They are on exhibition there.
This will be our biggest job of all. When we finish this, I reckon we can all live a live of luxury from then on.
Toots has strangely disappeared, and joining us as my moll is Beverly.
What a babe!
----------------
"We'll be arriving at Vasra VI in 30 minutes, boss." Lefty tells me, "Those pure saps ain't gonna know what's hit them!"
"That's right, Lefty." agrees Fats.
Beverly walks up to me. She has her large hat on, short skirt, fishnet stockings and stiletto heels.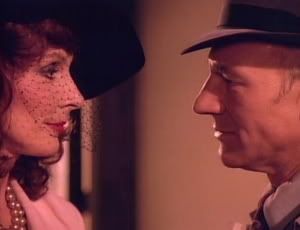 "We make a great team, Johnny." she says softly, "I'm glad you picked me as your moll."
"There's no one else, baby. You've got great gams with those fishnets." I tell her, "After this heist, we'll be as famous as Bonnie and Hardy."
"You mean Bonnie and Clyde, sugar?" Bev replies, and then kisses me. What a hot number!
"Yeah, sure, baby." I say with a smile.
A little while later, we are in orbit, and we all beam down.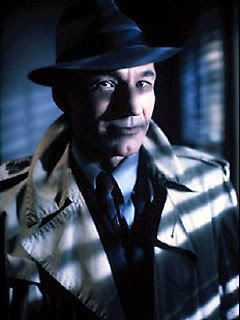 "Now you all know what to do." I tell them, "Bev is gonna go in, distract the guards, and we'll rush in with out tommy gun phasers and take over the joint."
We all watch from outside as Bev strolls in. The guards look in and stare at her. She drops her purse, and bends down to pick it up, revealing more of her fishnet legs. The guards are all looking at her. What saps! That's the signal.
We all rush in.
"Okay, this is a hold-up!" I shout, "No one move or they are gonna get plugged."
The guards turn to look at me. They look familiar.
"Good evening, Captain" says one of them. It's Data.
"Hello, Captain." another says. Riker.
"It is a good day to be apprehended, Captain." Worf. Our tommy gun phasers fail to go off. What's happened to them?
Beverly whispers in my ear.
"Time to get you restored, Jean-Luc"
She administers a hypospray and things go black.
-----------------
I wake up with a splitting headache; I am on the
Enterprise
. Riight now, my mind feels like it's been taken apart and put back together.
"Everything is alright again." declares Professor Kalam, "The Mind Altering Device shows that the Captain's brain wave patterns are back to normal."
Right now, I feel like knocking the Professor into the middle of the next stardate for turning me into a criminal, but that would cause more trouble. I restrain myself and thank him for correcting the problem.
Riker tells me that Toots has been picked up on the planet and arrested, as have Lefty and Fats.
After he and Kalam have gone, Beverly enters.
"Jean-Luc." she says, "I'm sorry for deceiving you when being your moll."
"That's alright, Bev." I reply, "I rather liked your outfit."
"I can always wear it again." Bev whispers softly, "The
Enterprise
cinema is showing
The Roaring Twenties
tonight.
"Don't forget the fishnets and stockings!" I add, "You DO have great gams, Bev!"