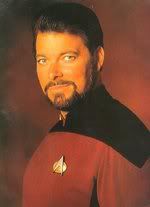 Guest Poster: Will Riker
Things are in a right mess now.
After the Cap was exposed to a device built by Professor Kalam, which was supposed to turn criminals into good guys, It had a reverse effect on him, and he has escaped from the
Enterprise
and is now embarking on a crime spree.
I've called a meeting of the senior staff to see how we are going to solve this. Kalam is with us as well.
-------
"Well everybody, how can we solve this?" I ask, "I've already had reports from places over the quadrant that the Captain has starting robbing places. He is in the processes of accumulating a criminal gang together. As a result, the thieving is getting worse. They are called the Johnny Picard Gang."
"What will happen if someone catches him, Will." asks Beverly, "Some planets are not some lenient as we are. Jean-Luc could be in front of a firing squad, or his atoms dispersed into space before we know about it."
"I am confused about something." states Data, "From the reports and pictures we have received, the Captain is dressing and talking like a gangster from the 1920's era on Earth."
"I think it might be to do with the fact that the Captain likes to dress as Private Investigator Dixon Hill." analyses Deanna, "As a result of his personality change, he is now acting like that, except as a gangster."
"You're probably right, Deanna." I say, "The question here also is if we catch him, can we change him back? Professor?"
Kalam wakes up as if he has been dozing.
"What? Err..yes...ah." he starts, "Oh yes, exposure to the Mind Altering Device will definately return your Captain to the state he was."
"So how can we get hold of him?" Geordi asks.
"We should mount a full attack with guns and phaser rifles." T'Pol says firmly.
"That is true." agrees Seven, "A heavy assault would work. I could assimilate all his colleagues while you rescue Locutus."
I turn pale.
"Now look," I tell them, "We don't want something like that. It will cause a lot of bloodshed. If the Captain doesn't get injured, one of us will."
"You are suggesting a more subtle approach, Commander?" Worf asks, "After all, a concerted attack will be a good day to die."
I hate it when he says that!
"Yes, Worf." I reply, "More subtlety is definately needed. The only way we can capture the Captain is put someone really close within the gang, then get him out of there."
"He won't trust any of us," Ro observes, "The Captain will know exactly what is going on."
"There is one person he might trust." I say, "Beverly, would you be prepared to go into the gang, tell the Captain you've forsaken us and wanted to follow him and be his moll?"
Beverly looks shocked. After a few seconds she sees the logic of it.
"Very well, Will." I'll do it.
To be continued...