Now that my mind has been put back together again, we can get to some serious
Enterprise
business. I call a conference of the senior staff.
"As it is September." I inform them, "The time has come for us to start planning the
Enterprise
Christmas Party."
A slight groan comes up, as if to say "Already?"
"It is essential that we plan this well in advance" I continue, "So that everything is well sorted out."
"Are we going to have
The Strolling Drones
here again?" asks Worf, "It was very hard for security having them and the other Borg here acting as waiters last year."
"That will not take place." Seven Of Nine tells us, "They have already been booked by The Borg Queen to play at Varga VII in the Delta Quadrant to celebrate the fact we have turned the entire planet's population into Borg drones.
I wince at this, but am secretly glad the drones will not be serving this year. All that made me nervous.
"Well, what shall we do?" Riker says, and everybody starts thinking, hoping they will come up with a brainwave.
"In the Terran Empire." comments T'Pol, "We could get citizens of a planet we had just conquered and order us to serve us in a Christmas Party. Strangely enough, we always seemed to suffer from stomach poisoning afterwards."
"What about The Sands?" asks Deanna, "We could use the holographic nightclub that we have as a venue.
There are a few nods of approval. It doesn't sound a bad idea.
"We could have Vic Fontaine as a host, and we call all go in a typical 1960's Las Vegas nightclub setting." she continues.
More murmurs of approval. I think we've found our venue this year.
"Other holographic characters employed by the club can handle the catering and serve the drinks." Geordi observes.
"...and we can all go in gorgeous slinky Vegas dresses!" Beverly comments, with a slight wink at me, "Ideal for all those romantic dances."
"So when will it start?" Ro Laren asks, "We want all the Guests we have to be ready."
"It'll probably start on Monday 3rd December." I tell her, "But when it finishes, will be when we all run out of energy."
"Great!" Jadzia says with a smile, "I'll be sorting out my party dress. You'll love what I choose, Worf."
Worf manages a slight Klingon smile.
"That's all for now." I say, "We'll have an update later on."
Author's note:
Jana
has given me this beautiful Award: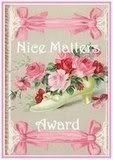 Thanks so much, Jana. It's lovely!