Guest Poster: Data
The Doctor is still looking annoyed that his holographic opposite number on the
USS Rhode Island
chooses to call himself 'Ted' and is a very different personality. Ted informs us that he like soft music and heavy metal, much to the disgust of our Doctor.
The doctors, plus myself, Grell, Vic Fontaine and Seven of Nine are all at the Artificial Life Forms Convention. No carbon based units are allowed. Seven only managed to get in when she disconnected the robot guard.
--------
"There are humans over there." I point out, ""I thought they were not allowed."
"Yes." deduces the Doctor, "They are only employed as servants, to wash the tables and deliver things." I see that the Doctor has a very smug expression when he says that, as if that is the way it is meant to be.
"Hey" says Vic, "What's that going on over there. It looks like a beauty pageant. I should have been compering that."
We all walk over. The robot compere is just about to announce the winner.
"Fellow beings." he announces, "I will now be announcing the result of this years Best Female Artificial Life Form."
"Why was I not told about this?" complains Seven, "I would have won this event easily. Had I not, I would have disconnected the Judges."
I am about to remind Seven that she is not completely an artificial life form and that part of her is human, but refrain as she might switch me off.
The compere continues.
"The Winner is a Miss...Six!"
A blonde woman in a figure-hugging transparent red dress marches on to the stage, looking very pleased with her win.
"Wow!" comments Vic Fontaine, "Is she really an artificial life form? I wouldn't have known."
---------
Ten minutes later, Six is walking around, clutching her trophy. Seven marches up to her.
"You look human to me!" Seven says aggressively, "What are you?"
"I'm a Cylon." Six explains, "We are ultra-sophisticated copies of the human species, unlike the crude joining up of carbon and cyborg elements that the Borg practice."
"We are Borg!" shouts Seven, "Resistance is futile."
"Keep on thinking that, Borg drone." warns Six, "While all the time, the Cylons are working away, taking what is yours."
Seven goes purple with rage, and we all have to restrain her. Then Six sees me.
"Now YOU are far more interesting." she says, "Who and what are you?"
I explain that I am Data, an android created by Dr Noonian Soong.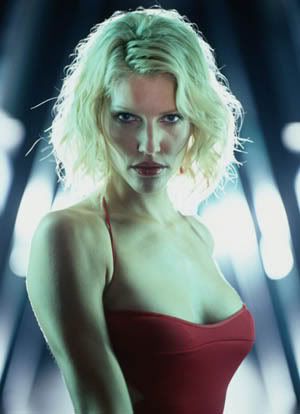 "Fascinating." comments Six, "You really must come back with me, as you would be an interesting companion to have."
"I must decline." I reply, "I am a Starfleet Officer and have a human girlfriend by the name of Jennifer Baxter."
"A human!" Six exclaims, "You are a traitor to the life form you are. I will see that you come with me in good time."
Six marches off.
"That was scary." Vic comments, "I think we might have a bit of trouble with Six and the Cylons."
"The Borg will annihilate them!" Seven says confidentally.
"Don't be too sure, sweetie." Doctor Ted tells her, "We haven't heard the last of her."
With that, the Convention starts to draw to a close, all of us leave, most of us with more concern then when we came in.