So now we're in the slammer!
Riker, Deanna and I went down to the planet Savenia to establish First Contact, due to them attaining warp drive status.
However, they are rather defensive, and saw us as invading aliens. The police force have quickly thrown us in the jail until they can figure out what to do.
-----------
"Can't the
Enterprise
beam us out, Captain?" Deanna asks me, "That would solve a lot of problems."
"That's not possible." I reply, "A major ion storm has since developed over the city."
"Well I haven't eaten for ages!" complains Riker, "I actually missed my donut this morning because I thought we would get a welcome dinner from these people. I won't do that again."
"Just let's hope there IS a next time, Number One."
I hear the sound of footsteps approach; a tough policeman stands outside.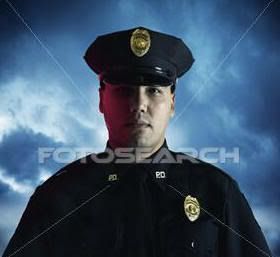 "All right!" he barks, "When is it?"
"When's what?" I ask, knowing he isn't referring to the date of my birthday.
"The invasion, of course." he answers, "I want to know when you aliens are going to launch an all-out attack on our planet."
"I tried to tell your people before." I try to tell him, "The United Federation of Planets is a peaceful group that want to invite you to join as you have achieved warp-drive status."
"Then you have been spying on us!" he counters.
"No." steps in Deanna, "Just observing you, trying to see when you will be ready to contact."
"You are even more deadlier than we thought!" the policeman says, "As we never saw you watching us, we are in great danger. Unless you tell us the invasion date, you will be executed!"
He storms off.
"It looks like we haven't got much hope, Captain." Riker answers, "What shall we do?"
I sigh.
"It looks like we may have to break a few Starfleet rules here, Number One." I tell him, "And that includes bending the Prime Directive to breaking point.
I use my ComBadge to contact the
Enterprise
, giving Data instructions about what to do and when. The communication is weak due to the ion storm, but he gets it.
"Are you sure this is wise, Captain." Deanna asks me.
"Yes, Counselor." I reply, "Right now, the Saveneans are in no mood to talk to outsiders. Hopefully in a few years they will change. For the moment, we have to save ourselves."
We look out of the window, up at the sky. Here it comes.
Phaser bursts from the
Enterprise
are exploding all over the main city, with the citizens running in droves. I can here people shouting "The invaders are here!"
A shuttlecraft circles around, shooting harmless lasers to send everybody into hiding.
We stand back in the jail as a phaser bolt hits the wall and destroys it. We run out and get in the shuttlecraft.
-----
Later, I am back in the
Enterprise
, enjoying my Earl Grey. Deanna enters.
"Are you sure that was the right way to go about that, Captain?" she asks, "There may be repercussions from Starfleet."
"Indeed there may, Deanna." I reply, "But when one is dealt a poor hand, they have to use the ace that is hidden up their sleeve".
Editor's Note:
This is the
699th
post. Be sure to see the
700th
post, published 17:30 British Time on Thursday.