"Who is this delegate we are going to meet, Captain?" Riker asks me as we sit down to a meeting, "I have heard very little about him."
"Let's wait until they all come in before I explain, Number One." I reply, "There are a few delicate things I have to go through."
Riker looks puzzled, but complies as the senior staff assemble.
"Now then, everybody." I start, "We are about to welcome Ambassador Zoran from the planet Malakos. Well that is to say some of us will."
"What do you mean by that, Captain?" Deanna asks, "My empathic abilities detect a hint of nervousness from you."
I wish she could turn that off!
"It means, Counselor," I say, "That all women will have to be confined to quarters while the men talk to Ambassador Zoran."
All the women in the room look disgusted, and start talking at once. Seven talks about assimilating the Ambassador.
"Let me explain." I continue, "There are no women on the Planet Malakos. Only men are born there, and as a result, over the centuries, they have been afraid of encountering any women. It's a different culture."
Data looks puzzled, but Riker manages to ask the question that is on everybody's mind.
"If there are no women on Malakos." he says, "How do they errr.... increase in population and not die out?"
"They are very scientifically minded, Number One." I reply, "All their children are grown in test tubes, and the DNA is conditioned so that only men come out."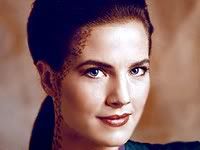 "That must be the most miserable planet in the galaxy." Jadzia comments wryly, "After all, no dates, no fun at night."
"I agree." Geordi answers, "Remind me not to go there. I wonder what he'd think of Wondawowman, the planet of the Amazons?"
I smile to myself at that remark. "Still." I say, the Ambassador will be there in a couple of hours. Mr Worf, ensure the women cannot be seen when the Ambassador arrives."
We all leave the Ready Room, but I see the women go back in for a meeting of their own.
I wonder if they are planning something mischievous?
To be continued...