Guest Poster: Ro Laren
Things are going from bad to worse at
Chez Silente
!
Captain Picard assigned me to check on the Cardassian Ambassador Gul Vorak, who unknown to anyone, happens to be my boyfriend.
The two of us are at the restaurant trying to figure out what to do when the Captain and Beverly Crusher have arrived on a date. I have sneaked out and am watching them chat to Vorak, as they expect a contact to talk to him.
What do I do?
As I watch I see that Picard and Beverly are eying each other.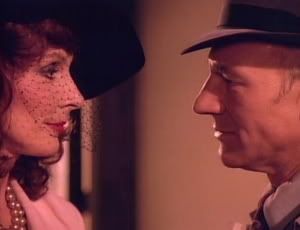 "Can't we go and have our meal, Jean-Luc?" whispers Beverly.
"Sure" he replies, "We can keep an eye on Vorak from our table."
This is my chance. I sneak into the kitchens and out into the alleyway. I'll have to gather my thoughts and figure how to solve everything.
The alleyway looks revolting. A real skid row place. There is a figure who spots me and approaches.
"Hey! Bajoran!" shouts the figure, who clearly has a female voice.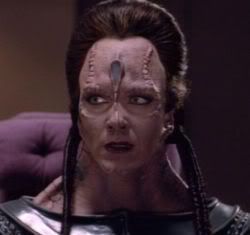 It's a Cardassian woman. Clearly, she doesn't like me.
"Want a fight, Bajoran?" she shouts, "Is that why you are here? I'll take you on anytime!"
Suddenly an idea comes to me that will solve all the problems. But I have to get her to co-operate. That isn't going to be easy. It's like talking to a snake.
"Who are you, Cardassian?" I ask.
"If it's any business of yours." she replies, "I'm Malana. What's it to you?"
"I'm Ro Laren." I tell her, "Would you like to have ten bars of latinum?"
"Who do I have to kill?" she answers with a laugh, "I hope it's you."
"Just go in the restaurant here, sit with the male Cardassian and tell him that you are sorry you are late for the date and imply you are a regular girlfriend."
"Are you for real, Bajoran?" Malana asks, "What's in it for you?"
"Never you mind." I reply, "Here are three bars; the other three will be here afterward."
She agrees and decides to go in. I return in the kitchen entrance, knock over a few waiters on the way, and watch behind the plant.
Malana enters, and sits with Vorak, going through the script. Picard seems content in knowing the Ambassador is only goes to see a Cardassian girlfriend, and not to do anything subversive.
After Picard and Beverly have gone, I approach Malana and tell her it's over.
"This will cost you, Bajoran." she says slyly, "I've figured it out what was going on. I'll keep quiet for now, but you may hear from me again."
----------------
The next morning, I present my report to the Captain.
He thanks me for it, but tells me that by chance he found out for himself.
"It seems the Ambassador just has a Cardassian girlfriend." he informs me, "He just likes a quiet evening out with her. We were suspicious for no reason, Ensign."
I've managed to hide my secret relationship from Cardassia, Bajor and the Federation. What about Melana? I suspect she will turn up like a bad credit sometime.