I definately think the senior staff women are up to something!
After I informed them that Ambassador Zoran from Malakos would be visiting, and as a result, all women on the
Enterprise
will have to be confined to quarters as the Malakosians are afraid of all females, whatever race.
All of them very very cross, even Bev, who didn't see why they should be hidden away as something to be ashamed of.
---------
Commander Riker and I, plus the other male senior staff are now at transporter room 3 to welcome the Ambassador.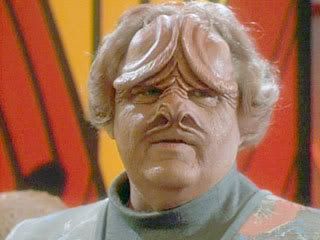 "Greetings Ambassador." I tell him, and go through the usual introductory speech. He looks around, rather nervously.
"Err...there..aren't any....non males here are there, Captain?" Zoran asks.
"Don't worry." I reply, "They are well away, and you won't see any here.."
The Ambassador breathes a sigh of relief and we all proceed to walk out of the transporter room.
"Oh, sorry!" Ensign Britney calls out, "I was on my way to my quarters and lost my way."
The Ambassador looks about to faint, as if he has been struck by a lightning bolt. Lieutenant Worf moves quickly and puts a bag he was carrying just in case, over the mini-skirt wearing Ensign ant takes her to the nearest brig.
"I'm sorry about that, Ambassador." I tell him, "That won't happen again."
I hear another set of footprints approaching.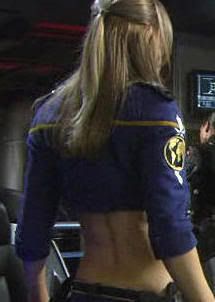 "Have you seen Ensign Britney, Captain?" T'Pol asks. As always, she is wearing her revealing 22nd Century mirror universe outfit.
Data and Geordi try to stand in front of the Ambassador so that he can't see anything, but it is too late. He is looking faint again.
T'Pol is taken away by Worf, who has just returned from locking up Ensign Britney.
Another female voice comes from behind me. Oh no.
"Hello Ambassador Zoran" says Deanna cheerily.
I run to shield Deanna from the Ambassador. Sigh. I've got a lot of disciplining to do.
"I can only apologise, Ambassador." I say to Zoran, "They will be punished."
"Please don't, Captain." he says surprisingly, "It has been quite refreshing to see these women. It's made me begin to wonder what we've been missing all these years on Malakos. Bring the ladies along, and all the others that are on your senior staff to our meeting. I've got a feeling it might be quite eye-opening."
We all go to the conference. Deanna takes me aside.
"See what we mean, Captain." she says, "Women can be quite persusive sometimes."