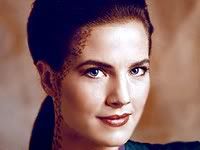 Guest Poster: Jadzia Dax
Worfie and I have got leave from the
Enterprise
to take Alexander on vacation.
As usual, Worf is grumbling about the location.
"Alexander should not be coming to a place such as this." he complained, "He should be on the Klingon homeworld learning about warrior skills."
"Alexander is just a young boy." I reply, as we approach
'Ben Benlin's Holiday Camp Village'
, "This environment is for young children to have a good time while the adults relax and go to enjoy themselves at night. There is a holographic nightclub, singers from many different planets and..."
"It's not befitting a Klingon warrior!" he continues, "A Klingon should be enduring pain sticks, not going to a holiday camp."
"Worfie!" I say angrily, "Let Alexander have a good time and don't complain!"
He relents. "Very well, Jadzia."
As we enter the village, we are greeted by a young woman wearing an orange coat and an excessive smile that shows teeth like a row of gravestones.
"Welcome to
Benlins
!!" she says excitedly, "I'm Jane and am one of the many Orangecoats that will be looking after your child while you are here. I've read the report; his name his Alexander. Now where is he?"
Alexander steps out from behind us.
"I must say." comments Jane, "We haven't had a Klingon child here before at
Benlin's
."
"That is all right." replies Worf, "Just show Alexander where your warrior training building and give him a
bat'leth
to use."
I give Worf a sharp dig in the hips with my elbow. He buckles slightly.
"We don't have any of those." says Jane, while still retaining her fixed smile, "We can give Alexander a plastic sword if he wishes."
Worf looks aghast.
Jane approaches Alexander and bends down, pinning a badge on his chest with a large 'H' on it.
"As you are now at
Benlin's
, Alexander" she says happily, "You are now a member of the Happy Gang. Whenever you see another member of the Happy Gang, go up to them and shout "HAPPY!" at them."
"HAPPY!" shouts Alexander excitedly.
"You've got it!" says Jane with a smile and leaves us. Worf doesn't look like he can take much more.
"Today would be a good day to die." he says depressingly.
"Liven up, Worfie!" I say to him, "We've only just got here, "I'm sure you'll enjoy yourself at
Benlin's
."
I must admit, this holiday village isn't exactly perfect for a Klingon warrior.
To be continued...