T'Pol is making herself a very unpopular Vulcan around here.
After we retrieved her from an frozen 200 year old Escape Pod that came out of the Mirror Universe, her abrasive attitude isn't fitting in well on the
Enterprise
.
Seven of Nine has threatened to assimilate her for insulting the Borg. I had to tell Seven to cool off in her alcove. Beverly and Deanna has both being saying she has to go as well.
----
I am with T'Pol, trying to tell her that she must be more tolerant of others, and to watch what she says when Ensign Jennifer Baxter marches up to her.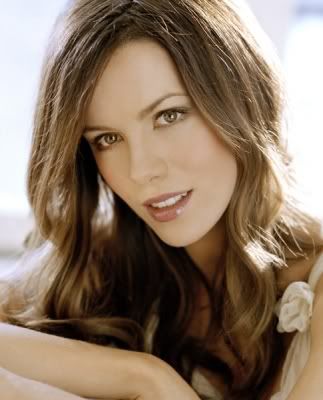 "What do you think you are doing by insulting Data?" she shouts at T'Pol, pointing her finger directly at her, "Saying that he ought to be put on the scrapheap and you could be taking his place!"
"He's only an android." T'Pol retorts, "I am flesh and blood. Are you saying that this android is your man?"
As T'Pol laughs out loud, Jennifer's fist hits her face.
In a moment, the pair are fighting away on the floor, tearing at each other's hair. Security come and separate them.
It seems like T'Pol is causing trouble; she has been in two fights already.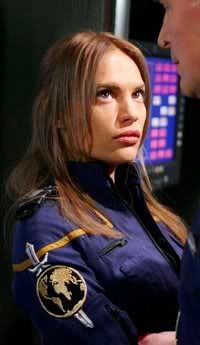 "Do you want to be in the brig all the time, T'Pol?" I ask her.
"The crew here are far weaker than those in the Terran Empire." she replies, and walks off defiantly.
I sigh and go to my video monitor. Something needs to be done.
----------
I'm talking to Admiral Hollister of Starfleet Command.
"Even if we could return her, Captain Picard." he tells me, "We can't. She's seen too much of this universe and might pass on secrets that might be of an advantage to them. It's all part of the Prime Directive. T'Pol will have to stay in this universe."
I sigh.
"Well, sir." I suggest, "What if we send T'Pol to Vulcan? Surely she would like..."
"Are you serious?" Hollister replies, "Captain, the Vulcans would never accept her. T'Pol is far too disruptive. Vulcan in her universe is far different from this one."
"Then maybe we can place her in a Starbase where she can..."
"Captain," Hollister tells me, "I know you don't want her on the
Enterprise
, but that is where she is going to have to be placed. There, she can learn about 24th Century life. Give her a job to do. She could be good with helping in Tactics or something like that. You're doing a great job with Seven Of Nine. I don't see why you can't so the same with T'Pol."
I sigh again. I knew it would come to this. It's no use mentioning that she and Seven have already been at loggerheads, and have upset a lot of others. Once an Admiral's mind is made up, it's impossible to change it.
A lot of people are going to be annoyed.
-----
T'Pol is sitting in her quarters, eating a slice of
Terran Empire Chocolate
that she obtained from a replicator.
"Well Picard?" she asks, "What are the Federation going to do with me?"
I shake her hand.
"Welcome to the Enterprise, T'Pol."