As the
Enterprise
gets ready for the two clean out and the crew go on their vacations, I call the staff in for a meeting.
"All right, everybody." I say, as we are going in a few days, "I'm just asking what you intend to do in the two weeks away? I shall be on my cruise to Ireland, Iceland, Norway, the Netherlands and Belgium."
"Will and I will be going to Betazoid." says Deanna, "We're keen to see my mother Lwaxana and discuss our future."
Riker has a glum look about him. Somehow I don't think he's so keen on seeing Deanna's mother.
"You ARE looking forward to seeing my mother, aren't you, Will?" asks Deanna sharply, noticing his look.
"Oh, sure." he replies, suddenly, "I can't wait."
"How about you, Data?" I say.
"Jennifer Baxter and I are visiting her parents in northern England." he answers, "Mr Baxter wants me to taste the local delicacies such as black pudding."
"Very tasty, Data." comments Geordi, "Trisha Lewis and I are going to VacationWorld. It's a planet that has been built with beaches to lie in, theme parks, everything."
I turn to T'Pol.
"I know you haven't been in this universe very long, T'Pol." I tell her, "What will you be doing on your leave.
"Ensign Britney and I will be going to the Raveathon Vacation Complex." she replies, "There, it is non stop partying, with the clubs playing music at 130 decibels minimum."
"That's a good place to go!" comments Beverly with a sarcastic smile, "I was due to go elsewhere, but I'll be visiting Wesley and Karena. I know he'll be keen to see me after being ordered about for so long by her."
"I shall be going to the Maquis Convention." Ro Laren tells us, "There are some good lecturers telling us how we can defeat the Cardassians."
I cough, pretending I didn't hear all that anti-Starfleet talk.
"How about you, Jadzia?" asks Riker.
"Worfie...I mean Worf and I will be visiting Trill" she replies, "It's been a while since I've visited my home planet. It will be interesting to see some of my relations...although they will be in differnt bodies."
"The Borg Queen will be expecting me to give my latest report on life on the
Enterprise
." states Seven of Nine, "She will wish to know whether you can be assimilated yet."
That depresses us all.
"Lighten up, Seven!" comments Geordi, "Don't you think we are worth saving yet?"
"No." replies Seven flatly, "The Borg are supreme, resistance is..."
"....Futile." Geordi says, "Yes, I know the line."
"Well, that's it, everybody." I tell them, "I hope you all have a good time while you're away."
"What about me? comes a voice.
It's Q, who appears.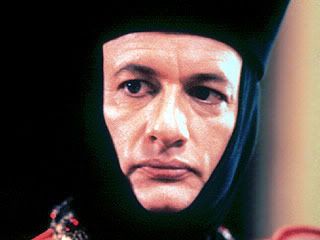 "You didn't ask what
I'd
be doing on vacation, Jean-Luc"
"How do you have a vacation, Q?" I ask, "The Continuum is one long holiday."
"I'm insulted, Jean-Luc." he replies, "It's hard work to have fun and making time go backwards for some planets and create a few comets that just miss others."
"Have a good vacation, Q." I say with a sigh, "Just don't come where we are going."
"Maybe not, Jean-Luc." he answers, "Maybe not."
With that, he vanishes again.
"I think we can go now." I sigh.
-----------------
Author's note: I'll put a two week TWQ up on Sat 23rd, and will return from my vacation on Tuesday 9th July.