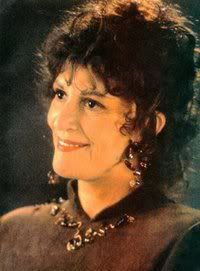 I think it's time to visit my darling daughter on the
Enterprise
again.
I've used my role as Betazed Ambassador to request an important meeting with the Captain; it'll make him nervous, but Jean-Luc doesn't have to be concerned this time.
-----------------
Beaming on to the Enterprise Transporter, the Captain is all ready to receive me, along with the rest of the staff, including Deanna. He has that nervous look that I always seem to see.
"Ambassador Troi" he starts, "Welcome aboard the
Enterprise
. I am concerned to know what was so important."
"Oh, stop fussing, Jean-Luc" I lightly tell him, "There is nothing here for my Ambassadorial role; I just need to have a little chat with Deanna."
Jean-Luc looks amazed.
"Mother!" exclaims Deanna, "The
Enterprise
had to be diverted off an important mission in order to come to Betazed and collect you!"
"Don't be so uptight, Deanna" I reply, "It's time for a friendly mother-daughter chat. Jean-Luc, can we borrow your Ready Room? Commander Riker, I need you to come as well."
Jean-Luc nods his head in agreement, as if he is too stunned to speak.
----------------------
In the Ready Room, I invite Will Riker and Deanna to sit down.
"What is this, mother?" says Deanna angrily, "And don't talk telepathically; Will is a part of this, so don't cut him out."
"So he is" I tell them, "The question is when are you two going to get married?"
The two look at each other, with slightly red faces.
"That's between us, mother; Will and I have chatted about it."
"With all due respect, Mrs Troi.." Will hesitantly continues.
"Oh tosh!" I tell them, "I want you going down that Betazed aisle very soon and a grandchild soon after!"
They both go even redder in the face.
"Mother!" exclaims Deanna, "You can't go embarasssing poor Will and myself by talking about children yet; it's not something we've...."
"Well you'd better do so soon; the Betazoid biological clock doesn't tick all day" I tell them.
"But..." she protests.
"You want to look your best on your wedding day; you know the wedding photographer won't miss anything."
"What does that mean?" Will asks Deanna.
"Have you forgotten" I remind him, "That Betazoid weddings are done without clothes? Now I suggests that you and I, Deanna, visit the Betazed Spa before the wedding, so that..."
"Mother" Deanna tell me slowly, "Will hasn't even asked me to marry him, yet you're getting the wedding ceremony planned and the children's nursery decorated!"
"I'm sorry, Deanna," I say to her, "I'm being too forward. Will, why don't you ask Deanna to marry you right now, so that we can press on?"
"I hardly think it's the right moment, Mrs Troi." protests Will.
"Oh, call me Lwaxana" I tell him, "Or Mom; after all, you're practically family now"
The two look in despair.
"Now you two think about it" I say, "And, Will, I want to see a ring on my daughter's finger. You understand?"
"Yes, Mrs Troi...I mean Lwaxana"
-------------------------
I return to the Transporter Room, where Jean-Luc is still there.
"I'm beaming back down again, Jean-Luc." I cheerily say, "Thanks for having me here. By the way, you might be at a wedding soon as Best Man. Don't bother measuring yourself for a suit. Byeeee!"