All the staff have been keen to see my new top-of-the-range holographic television, and I would have been proud to show it off.
However, it has arrived, and I feel a little let down by the result.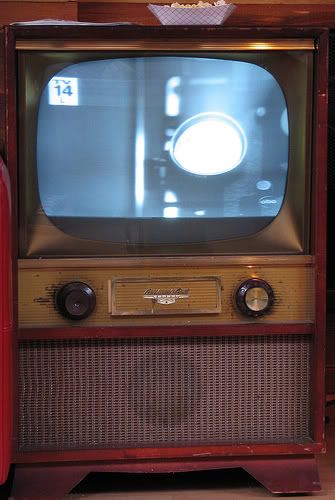 "Is this the model you asked for, Captain?" says Riker, although I can detect a hint of sarkyness in his tone.
"Of course it isn't, Number One!" I snap, "Wait until I call the shop."
"It appears to be a television set that was used in the mid 20th century." Data tells us with his trivia-packed mind, "This was composed of valves, had a monochrome picture and.."
"Never mind that, Mr Data." I tell him, "Do you want to watch me give a few choice 24th century phrases to the suppliers of this box?"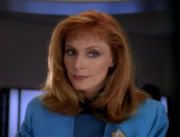 "Why don't we see whether it works first?" Bev suggested, "For all we know, it might be the real thing in a sort of traditional design."
"I somehow doubt it." commented, and moved forward to switch on one one of the large knobs at the front.
A screechy noise emits from it, and the screen is all hazy snow. Jennifer Baxter gets the aeriel that thats on the top of it, and the quality starts to change.
"BETTER!...WORSE..." everybody shouts as Jennifer moves the crude metal device.
Finally, as she stands with one leg raised and her arm up in the air, the picture becomes clear.
Everyone looks surprised. It's not the Federation tv channel as we were expecting....
To be continued...