Guest Poster: Q
Times have been very interesting recently, since I started my romance with the female Q.
Not that we in the Continuum can measure time, of course. It's just a figure of speech. But all in all, it has been a good time.
Naturally, that doesn't mean I haven't been terrorising people in the universe. Of course I have, but my love has joined me in doing it, and seems to have that wicked sense of humour that I do. Poor Jean-Luc and his merry minions were left dazed when she swapped the warp engine and put that of a 1950's Chevrolet there instead. Kathrn didn't know what to do when Q rearranged all the sensor calibrations.
Voyager
didn't know if it was coming or going!
"Darling!" says a charming voice behind me.
"Q!" I exclaim, "How are you, my sweety weety?"
"All the better for seeing you, Q-sy woozy!" she replies in a playful way, "Whose life shall we make a misery now?"
"Well, I don't know." I say in a slight twinkle., "How about if...
"Q and Q" a voice says behind me.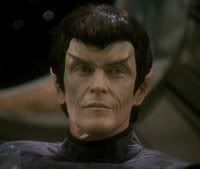 I look, and can see it's the Q who is our Leader's head flunkey. He has adopted the appearance of a Vulcan as he thinks it makes him look more officious.
Snob.
"Listen you two." he sneers, "The Head Q wants to see you right away. He's not happy, I can tell you that."
He smirks, as he knows the two of us are in for it. The Head Q's flunkey is disliked more than the police did Internal Affairs or the Feds in the 20th and 21st century.
"Come on, sweetie." I say to my love, "Let's see what the Head Honcho wants."
To be continued...