Editor's Note:
Section 31, the subversive organisation hatched a plot to replace all the senior staff of the
Enterprise
with their Agents. Admiral Nagamura, who was secretly a member and fired Picard. He installed another member, Kate Pulaski, who promptly fired many of them. The remaining ones have been in the brig. however, the plot has been foiled, and Picard has requested not to reveal this fact for the moment.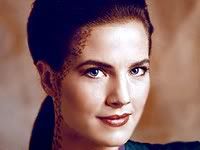 Guest Poster: Jadzia Dax
I'm still in the brig, along with Worfie, Data, Geordi, Will Riker and Deanna.
While Worfie is carving the number of days we have been here on the wall, some of us contemplate what we will do when back on Earth.
"Perhaps Captain Picard and Doctor Crusher would welcome some help at the fast food restaurant where they work?" suggests Data.
"I can't see you tossing burgers, Data." Geordi laughs, "Altough you wouldn't get burnt while doing it."
"I shall seek a career in law enforcement." Worfie declares, "Miscreants shall feel the weight of my authority."
"You sound more like a traffic warden, Worf." Riker tells him, "I think I'll start a jazz band."
"I'll be a top dollar psychiatrist." Deanna tells us, "As an empath, I'll make a lot of money."
I roll my eyes.
"Instead of furthering your careers." I tell them, "Have you figured out how to get us out of this?"
We then hear the sound of someone approaching. I recognise the stiletto. It's the Wicked Witch.
"I'll be well rid of you all." Pulaski says, "Once you've gone, the
Enterprise
can start operating properly. I'll have the holographic Doctor reprogrammed and Vic Fontaine deleted. Instead of being peaceful to everybody, we can threaten a few who don't like us. The security shuttle is here to take you away. Good riddance."
Some Section 31 minions take us to the Shuttle Bay, escorted by Pulaski. We wait to be taken away.
The door opens, and out steps Capain Picard, beverly Crusher and fall the others that had been fired. Also with them are the heftiest security people I've ever seen.
"All right,
ex
-Captain Pulaski." Picard says firmly, "It's all over. Nagamura has been arrested, and you are now. I'm running the ship now, with the say-so of the Starfleet President."
Pulaski and her henchmen are dragged off to the shuttle. Bev sticks her tongue out at her, and Pulaski gives her a venemous look.
We all hug each other, glad that it's over at last.
"Take the Bridge, Number One." says Picard, "Doctor Crusher and I have got an appointment with some Earl Grey in my Ready Room."