Guest Poster: The Borg Queen
Things are looking grim, and I don't mean the soot I got on my outfit after visiting Bert to see his
Bargain Basement Shop
, and instead got a rendition of
Chim Chim Cheree
.
No, it's because the Borg race are bankrupt. Bad investors by bankers, who have now been terminated have left us without the necessary finances to continue.
I have been summoned to an Emergency Conference along with the other Queens to hear from our Glorious Leader, the Alpha Borg Queen.
--------------
Several hours later, I am in the Conference Chamber, along with the other Queens. We huddle and gossip about all that we know.
"What will happen?" says 014, "I've never been in a situation like this before."
"None of us have." answers 06, "As Queens, we are in a lot of trouble. If the drones are eliminated, will the same happen to us?"
"Of course not." I say, trying to calm the situation down.
I turn and see the Troi Borg Queen, controller of the 02 Cube.

She is chattering away to her friends. They are the only ones with smiles on their faces. I suspect that if the Alpha Borg Queen can't rescue the situation, the Old Order will crumble, and the Troi Queen will put herself in charge.
If that happens, life as we know it will never be the same again. She is vicious, with a thoroughly evil streak that shows no mercy to any living thing, Borg or otherwise.
A Federation Starfleet Officer would compare such an occurance like their pacifist President being replaced by Attilla the Hun.
The Chamber goes silent, as our Leader steps up to speak.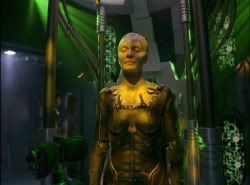 "My dear Queens," she starts, "The Borg race has faced it's gravest crisis since the Cylon and Species 8472 invasions. It is bankrupt."
I turn to see the Troi Queen gleefully rubbing her hands. It looks like she may be challenging for the Leadership.
"That was a few hours ago. " our Leader continues, "But help is at hand. Yesterday evening, the Borg Cube 052 made a routine assimilation of a planet only to discover it was rich in Terilliam."
A gasp comes from us all. Terilliam is the rarest mineral in the galaxy. The slightest amount of it brings untold wealth.
"So as you can well imagine." the Alpha Borg Queen tells us with a smile, "Our problems are over. The Credit Crunch is ended, and we are once more in the money. The Borg Share Index has gone through the roof, and the good times are here. Let's build more Cubes and continue to assimilate!"
A rousing cheer goes up amongst the Queens, while the Troi Queen and her friends are forced to wear fixed smiles.
Everything is fine for now, but I suspect the Troi Queen badly wants the Leadership. Our Leader needs to be careful.