The Borg Queen has just informed me that she has had word via the Collective Hive Mind from Seven of Nine that Data, Ensign Britney, T'Pol, Jennifer Baxter and herself have eliminated the artificial life form Six and her Cylon bodyguard Norman.
Now all we have to do is destroy the Resurrection Ship in Cylon Space before another Six being is created.
I say
'all we have to do'
, as if it is a simple matter, like a quizmaster might do on an awful galactic telecast show.
-----------
"The Alliance is working well, Locutus." says the Borg Queen over the videoscreen, "Now what I propose is..."
"Hold on." interrupts Bev, "If this is an Alliance, then we are not going to take any directives from the Borg."
I think Bev is still sore because the Borg Queen held her clammy hand on mine as a sign of the Alliance. At least that might be the reason.
"Whatever you please, Doctor Crusher." the Queen answers, "I just suggest that as my Cube has superior firepower, that can hold off any Cylon attacks while Locutus and I beam down to plant the inner explosives."
"It does sounds a feasible method of attack." Worf concedes.
"I agree." Riker answers.
"It might well be." Beverly grudgingly admits, "But I'm coming down with the Captain."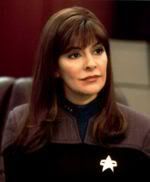 "Is that wise?" Deanna asks Beverly, "It could be dangerous there."
"I know that." Bev answers, "You might need...err...medical help."
I think Beverly was making sure that the Queen does not have a chance to make a suspected pass at me again.
"Very well." the Borg Queen says, "We shall do that, Locutus."
-----------
A few hours later, we are in Cylon territory. The
Enterprise
is being taken by Borg Cube tractor beam as if we are prisoners to fool the Cylons. The Borg Queen beams on board our ship.
"Locutus." says the Queen, "Let us hope our joint effort will rid the galaxy of the Cylons for ever."
She holds her clammy hand on mine, which I quickly remove as Bev enters.
"Preparing to release tractor beam" says the Queen as she gives instructions.
The
Enterprise
heads towards the Resurrection Ship while the Cube defends us against Cylon ships.
"Beaming down now!"
Now to see if we can rescue the galaxy...again. I'm keeping a tally on how many times I do this, by the way, just in case some Admiral ever tells me off.
To be continued...
-----------------
Editor's Note:

Don't forget to send in your entry for the Enterprise Christmas Party. Send your entries to: Captain Picard (wibblywebb-1@yahoo.co.uk) marking your entry 'Enterprise Christmas Party'. The E Mail address is also under 'Secure Channel' on my Journal page. Closing Date Wed 26th November.....FINISHING SOON!