Guest Poster: The Borg Queen

The Conference Chamber at Borg HQ is a mass of confusion.
Our Leader, the Alpha Borg Queen, has given an audience to a representative of artificial creatures known as Cylons. Seven warned me that this person might be troublesome, but I didn't realise how much.
Six, the Cylon representative has informed all of us Queens that our way of life is coming to an end.
The first thing I thought of was that she wanted to ban Christmas parties.
----------
"Why do we not just destroy you now?" shouts out the Troi Queen, "That would send a message to you creatures not to come around here again."
"If you wish to do that, you are welcome to." replies Six with a pitying smile, "I would merely be ressurected and downloaded into an identical body."
The Queens are amazed at this ability, and even our Leader is impressed.
"That is very interesting." the Alpha Borg Queen says to her, "But we have been kind enough to give you this audience. What evidence is there that your race is any threat to us?"
The atmosphere seems very tense, as if someone is about to light a match in a roomful of gas.
Six calls out to something from behind the stage.
"You can come out now."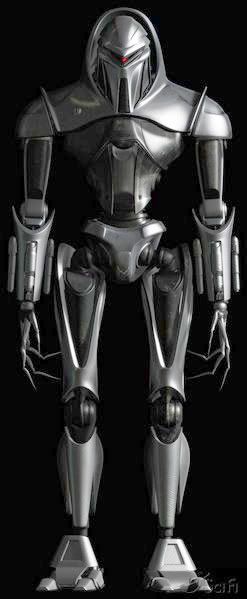 A huge metallic creature strides towards Six and stands behind her. There are gasps of amazement from the seated Queens, as if they are watching a firework display. The creature has enough metal to keep a scrap merchant in business for years.
"This is Norman, my Centurian guardian." Six tells us. "Millions of these Cylons are attacking and taking over planets in the galaxy, incuding ones that were held by the Borg."
"The Borg do not lose planets!" the Alpha Borg Queen states defiantly, "We are supreme!"
"Oh really?" Six says with a hint of sarcasm, "What happened to Borg Sector 9.oo.99 on the outer rim of the galaxy?"
Our Leader looks embarrassed.
"Something happened. I am not sure." she says, "We did not get incoming reports."
"Here's an incoming report." Six snaps back, "The Cylons came through and wiped you out before you could do anything."
"What do you want?" our Leader says with a resigned air.
"We have a particular interest to acquire Earth in Sector 0:00:01" Six casually mentions, "As well as all the planets in the galaxy."
"The Federation are formidable opponents." the Alpha Borg Queen warns, "And so are we."
"That may well be." Six says with a smile.
She and Norman exit the stage, and our Leader turns to us.
"My Queens." she says, "I let Six go so she can get word of the situation. The Cylons may well be a threat to the Borg way of life, and, for that matter, any planet that we have not assimilated yet. We must all band together and drive them out."
With that, she leaves and I go get another ice cream to replace the one I dropped earlier.
---------------
Editor's note:
Mimi
has sent me this meme (no pun intended). I have continued her theme of seven book facts about myself. I haven't passed on the rules as I don't intend to give it for people to do unless they want to.
1: One of the first intelligent books I read was
Frankenstein
by Mary Woolstonecraft Shelley.
2: I love historical fiction, with Philippa Gregory's
The Other Boleyn Girl
being the best. It is much better than the movie.
3: A book I abandoned because I disliked the characters so much was
The Time Traveller's Wife
.
4: The worst book I ever read was Patricia Cornwell's
Blowfly
. I was a biig fan before I read that book. I actually read it all, as I thought it would get better.
5: The weepiest book was
The Book Thief
by Markus Zusak. Highly original.
6: Best book this year was
The Host
by Stephanie Meyer. A real page turner about an alien invasion narrated by the alien and the body of the woman she has taken over.
7: All time favourite book is Gustav Flaubert's
Madame Bovary
.