Guest Poster: Ro Laren
I'm in a right fix now. The last time I was this distressed, the local Bajoran ear jewelry shop had just closed down.
My boyfriend Vorak has been caught by the Maquis. The trouble is, Vorak is a Cardassian, and the two of us have been having a secret relationship since meeting via a dating agency. Though Bajorans and Cardassians are supposed to despise each other, Vorak and I are attracted.
Unfortunately, we can't let anyone know, as we would both be ostracised from the societies we live in.
I decide, as I don't want anyone to find out about us, that I am going to rescue him myself.
As I know the location of the local Maquis meeting place, I think I'll casually drop in and see what's what.
-------------
I get the shuttlecraft and land on the quiet planet of Havalon V. There is a tiny building nearby. I walk towards it and give the secret Maquis knock.
A little slot opens in the door, and a pair of eyes look through.
"Who is it?" a voice commands.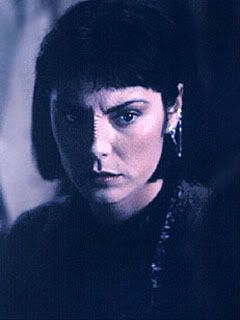 "Ro Laren." I whisper quietly.
The door opens and I enter.
"Well, well." says a voice, "If it isn't Ro. We thought you'd forgotten about us. You seem to spend all your time with the Cardassian-loving Federation."
"That's not true, Kad." I say falsely to the Bajoran woman I recognise as the leader sitting down, "I gather information, and still pay subscriptions to
Maquis Monthly
. Anything exciting happening?"
"I should say, Ro!" Kad exclaims, "We managed to capture Gul Vorak, the Cardassian Ambassador to Earth last night. He was about to enter a restaurant. We figure he was there to meet a contact. We'll get the details out of him."
I start to sweat a little, as if I have been on the sonic sunbed for too long.
"Can I question him?" I ask casually.
"Sure, Ro." she replies.
"I'll have him saying
'four lights'
before you know it." I say with a laugh.
I enter the Interrogation Room and see my boyfriend strapped to the chair.
He looks alarmed when he sees me, but I wink slyly at him.
"Leave us alone!" I order to the guard, "I'll soon have the truth out of this Cardassian!"
When we are alone, a groggy Vorak mumbles "Ro?"
"Quiet." I whisper, as I untie him, You are going to zap me with my phaser...make sure it's on
stun,
please. You can then grab one of the shuttles in the Maquis Shuttle Park and escape."
"Are you sure, Ro?
"Do it!"
He aims, and a blanket of darkness falls over me.
-------------
The next thing I know, I am being shaken awake by the Maquis members.
"Ro!" Kad exclaims, "What happened? Where is the Cardassian?"
I get up, and start to tell the story I have made up.
"The incompetant who tied the Cardassian's hand did not do a good job!" I say, "He managed to untie his hands, grab me, took my phaser and stunned me. It was lucky it was set on
stun
."
"Indeed it was, Ro." Kad comments, "We will have to have a course in how to tie knots here, it seems."
At that, I say my farewells, and head off back to the
Enterprise
.
A hail comes in. It is Vorak.
"That was a close on, Ro." he says, "Did they believe your story?"
"Yes." I reply, "We'll have to be careful in future. Any more events like that and it will be curtains for both of us."