The shuttlecraft Orion, that has me, Beverly, Riker and Deanna in it has been floating around in space after breaking down on the way from our Ascot trip on Earth.
We were on the way to rejoin the
Enterprise,
but the engines gave out.
Fortunately, the sensors are picking up an approaching space vessel.
----------
"We've saved!" shouts an exhubitant Deanna, who hugs us all.
"Hold on, Counselor." I advise, "We don't know who these people are yet."
I send out a distress call, and the ship comes our way.
I must admit, it doesn't look too impressive; an ancient space freighter that looks about two centuries old.
Still, when we are being rescued from floating about in space, we can't afford to be too choosy.
The ship hooks on to the Orion, and we climb out of the connection hatch into the freighter to see who our rescuers are.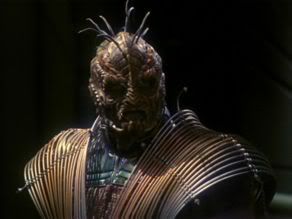 "I am Captain Komba of the Freighter Ship
Trashkan
." he tells us. I can see the Captain wouldn't win any prizes a beauty contest.
I reply by announcing who the four of us are. The Captain seems duly unimpressed.
"Fortunately for you." he tells us, "The
Trashkan
is going in the direction your starship, so we shall take you there."
"Thank you, Captain." Riker tells him, "Now if you'll just show us to our quarters."
Komba snorts in derision.
"This isn't one of your fancy starships, Riker." Komba says in disgust, "The
Trashkan
is a working freighter. That means all four of you will be expected to work your passage. I'll put you and Picard in the engine room. There are a lot of greasy parts that need cleaning. The women can go work in the kitchen."
"Excuse me, Captain." Beverly advise, "But I'm a doctor. Perhaps it would be a good idea if I work in the SickBay?"
"What SickBay?" Komba laughs, "If anyone gets injured on this freighter, we either put a band aid on them or put them in the morgue. Get cooking! You two women can go in the womens quarters, and you men can go in the male bunk room."
"I'm a Captain.." I start to protest.
"Not here, Picard." Komba tells me, "You're just a crewman working his passage."
------------
A few hours later, Riker and I are still cleaning the engine parts that have been covered by years of grease and grime. Everywhere is filthy, and I'm covered in it.
"Is this a way to get to the
Enterprise
, Number One?" I ask.
"I know what you mean, Captain." Riker replies, "I think we were better off floating in space."
"I wonder how Beverly and Deanna are doing in the kitchen?"
To be continued...