Bev, Riker, Deanna and myself were coming out of Ascot racecourse, in England.
I was happily counting the Credits that I had acquired from backing the winner of the Gold Cup, as was Beverly, who had taken my advice in choosing the favourite. Behind us, Deanna and Riker were arguing.
"Whyever did you put all your Credits on a 50 to 1 outsider, Will?" Deanna enquired, "It was so far behind, the horses in the next races couldn't start until it managed to get past the finishing line. Even then, the jockey had to get off and drag the horse across it!"
"It just seemed to have a good name." Riker answered, "With a name like
Commander's Will
, I could hardly resist it."
"Horses with cute names aren't going to win races, Will." Beverly reminded him, "I could see that Ferengi Bookmaker laughing away to himself as you placed your bet. He must have thought it was Christmas!"
"All right, I get the idea." Riker admits, "It wasn't a sound decision, but you did pick one with a name as well, Captain."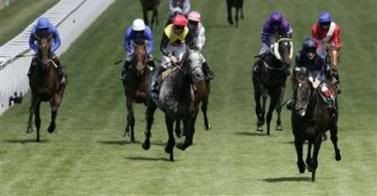 "True, but
Bev's Bounty
was the favourite." I tell him, "So we chose well."
As Riker continues to mumble with Deanna, we head out of the track towards the shuttlepark, so that we can fly towards our meeting point with the
Enterprise
.
The
Orion
shuttle takes off, but is feeling sluggish, even more so than when we came this way.
"I think we should have got this shuttle looked at, Captain." Riker informs me, "Geordi wasn't sure about whether..."
"We would have missed the first race, Will." Deanna replies, "Although that might have been better; we wouldn't have lost so many Credits. I felt I was contributing to the Retired Bookmakers Home."
After hearing Deanna whine away as much as the engines of the shuttlecraft, the
Orion
finally comes to a halt.
"Well that's torn it!" exclaims Riker, "Now were's floating away in the vast wilderness of space with no hope of rescue, lost forever.."
"Can it, Number One!" I reply, "There's something showing up on our sensors. A ship is coming this way."
To be continued...