"I don't want to go, Captain." Riker tells me as I sit in my office having my mid-morning cup of Earl Grey, "It's just that Deanna wants me to go with her to Betazed and talk with her mother, Lwaxana."
"Yes, I can see how you would be reluctant to go, Will." I reply, "But that is one of the tasks one takes if they go with Counselor Troi."
"Too right!" admits Riker, "I'd like the time away with Deanna, without Lwaxana asking if I've visited any interplanetary jewelers, and reminding me what the size of her daughter's wedding ring finger."
I try not to laugh. I don't want to drop my tea again.
"Well, Number One." I say, "At least Data will be able to take care of the Commander's position while you are away."
"That's true." he admits, "Everything is always just the way it was whenever I return from an absence."
Riker gets up when he finishes his second donut and heads to Deanna's quarters to help her with the packing.
I turn to the videoviewer to call Admiral Hardaker to remind him about Riker. The Admiral is the one we have to book our vacations with. To think we still have to do this in the 24th Century! Only so many can have the same days off.
Hardaker comes on the screen.
"Just to remind you sir." I start, "That Commander Riker is off for a week here, and well have Riker filling in for him."
"Oh no he won't!" he replies quickly.
"What do you mean, sir?"
"Well." he answers, "With Riker away, it gives us a good chance to put someone else in his place and see how things go. This Commander is very ambitious, and wants to be a Captain as soon as possible."
I start to feel uncomfortable, as if my Captain's seat is being eased from me.
"In fact." Hardaker tells me, "The Commander has visited the
Enterprise
before, and will arrive on the shuttle that will take Riker and Counselor Troi away."
He closes and switches off the viewer before I have a chance to ask who the Commander is.
----------------
Not long after, we are all waiting in the shuttle bay. Deanna Troi is looking happy that she has a chance to visit her mother. Riker is looking miserable as if he is in the Tower of London and about to go to the block.
"Have you no idea who my replacement is, Captain?" he asks.
"I guess we'll find out soon enough, Number One." I reply, as I see the shuttlecraft come into the bay. Itlands and we approach as the doors open.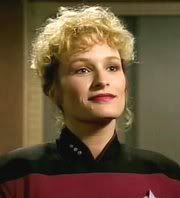 "Commander Shelby!" I exclaim.
"Yes" she replies, then looks at Riker, "Are you still here? Oh yes, you need the shuttle. Now don't worry. You have a LONG break. I'll soon get this ship running properly."
I look at Riker as he and Deanna enter the shuttle, almost wishing I could get away with them.
I have the idea that the next few days are going to be very difficult.
To be continued...