I'm in my Ready Room, having a quiet doze, when suddenly I am woken by the sound of Ro Laren marching in, holding T'Pol's arm.
T'Pol is wearing a shamed expression, with her eyes to the ground, as if she has been caught by her mother raiding the cookie jar.
"What's going on?" I ask.
"Tell him!" Ro demands, looking at the Vulcan.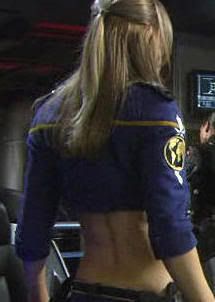 "Well, Captain." starts T'Pol, "Do you have a Spacebook Account?"
This is the social networking computer system that is sweeping all over the Federation. Many others are using it as well.
"Certainly." I reply, "Doctor Crusher and I use it to exchange err...certain important messages. Anyway, what does this have to do with what has happened?"
"Well I made a friend named Elena, and as we became acquainted, she casually asked if I knew what frequency the
Enterprise
shields worked on, where the border defence satellites are between the Federation and the Romulan Star Empire, and what frequency they are."
"You didn't tell her did you?" I say in shock, barely able to swallow my stress pill.
"No, Captain." replies, "That is why I went to Ro Laren to ask if she knew."
My head slumps, hitting the desk. I then stand up and bang my head against the wall a few times before facing them.
"Let's take a look at your Account, T'Pol."
When we do, I see the woman who calls herself Elena.

"T'Pol!" I exclaim, "This woman is a Romulan! They would do anything to find out that information!"
"Is she?" replies T'Pol, "I thought she was a Vulcan. The races do tend to look alike, don't they."
I'm about to return to hitting my head against the wall, when Riker and Deanna, who had been listening at the door come forward.
"Nothing has been gained by them, Captain." Deanna reminds me.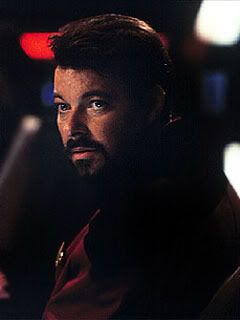 "It could be useful if we 'told' them." says Riker with a smile.
"I think I know what you mean, Number One." I tell him, and reach to the computer,
I send a message to Elena in T'Pol's Account.
Hi Elena!I've been really lucky! The
Enterprise
shield frequency is 89.64 mhz, the defence satellites are at Kiros, VanAllen, and Tiros, and are currently running at 43.61 mhz.Your friend,T'Pol
Quickly, I get a message back from Elena.
T'Pol,You're a true friend! Great to know you. Sorry I won't be able to chat for some time as I'm going on a classified mission. Thanks again for all you've done.Your friend as always,Elena.
"Well that should solve our problems." I tell them, "When the Romulan Fleet come to the border, or meet the
Enterprise
, they've going to get a nasty shock."
"I think Elena is likely to get into a spot of trouble." Riker comments.
"Indeed." I say, and turn to T'Pol, "I wouldn't expect any more messages from Elena. Where she will end up, there won't be any Spacebook Accounts."