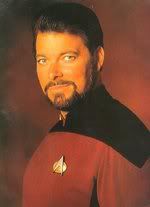 Guest Poster: Will Riker
The Cap approaches me as he is about to leave after a shift.
"Now then, Number One." he starts, "I know you're about to do the 'graveyard shift' for tonight. I am telling you that I've had a very exhausting day, and under NO circumstances am I to be disturbed and woken up."
"But what if we get an alien invasion, Captain?" I ask, "Won't we..."
"I'm sure you can handle it." he says, "This is your chance to sit in the Captain's chair and look after everything."
The Cap walks off and I fit down on the Captain's chair. It feels very comfy.
"Deanna." I point out to her, "Why is it the Captain's chair is comfier than the Commander's?"
"Perhaps for the same reason he has got one more star on his uniform than you have?" she points out.
Sometimes Deanna has a way of putting things.
--------------
Some hours later, we are surrounded by four unknown shipsd, and get a visual hail on the screen. I put away the donut I am eating.
"I am Inspector Vartak of the Chameloid race." he declares, "You will be ready for boarding."
I tell him who we are, and that we will not allow ourselves to be boarded. He switches off.
"We may have to let him on, Will." Deanna tells me, "We are in Chameloid space. If we have committed an offence, it may be in our best interests. Besides that, there are four warships around us."
"You're right, Deanna." I tell her, "Though I'm not fond of letting a Chewbacca lookalike on the
Enterprise
."
I switch on and talk to Chewie... I mean the Inspector, asking him what the problem is.
"We've had reports of a disturbance in the area." he informs us, "We have been told that an alien starship has assaulted a member in the Sleazy Tavern on our planet and made off with a replicator. The starship was this one, the Warbird
Centreprise
."
"You've got the wrong ship," I tell him with smugness, "Warbirds are Romulan ships, this is the
USS Enterprise.
We saw the ship you are referring to six light years away."
Vartak looks embarrassed. As much as any of his race could look that way.
"Sorry to trouble you, Commander." he tells me, "We'll be on our way."
The four ships hurry off in the direction I pointed them. Worf will be happy that some Romulans will be in a Chameloid prison.
----------------
A few hours later, the Cap is up, and I am telling him what happened.
"Well done, Number One." he comments.
"Thank you, sir" I say, "I just wanted to ask something about the Captain's chair..."