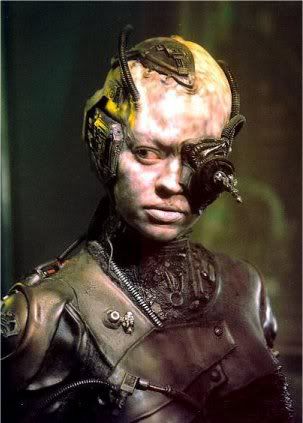 Guest Poster: Seven Of Nine
I have been given time off by both Locutus and the Borg Queen to attend the Annual General Meeting of the Borg Assimilated Drones Union (BADU).
As the Union Representative of the Cube Unimatrix Zero One, I have to go and put my grievances of the drones to the Committee. What happens then is that the Committee then go to the respective Queens, put their viewpoints and are then promptly disconnected.
It's why we have a new Committee every year.
Anyway, I am going to listen to the latest viewpoints. The Borg Queen has told me that everything is fine on the Cube, which I haven't visited too often since being assigned by her to go to the
Enterprise
, and I am inclined to believe her.
Suddenly I hear a sarcastic voice pipe up.
"Well, if it isn't the human-loving drone from Unimatrix Zero One!" the voice says.
"Nine of Ten!" I exclaim, "What are you doing here? Surely the Unimatrix 15 Cube haven't been that desperate as to sent you along. What happened to the last Representative from that Cube?"
"Four of Four was destroyed in an attack by humans." she replies pointedly, "Your friends, Seven did it, so I was eager to act as the new Representative in order to meet you again."
A crowd of drones are gathering. It seems that some love nothing more than a couple of female drones fighting each other, and pulling at their hair and Borg implants.
"I had no say in that." I reply, "It was a different Starfleet vessel."
"And your Queen is very pally with your human Captain, who was a Borg himself." Nine goes on, "Human are meant to be assimilated and destroyed."
A member of the Committee, One of Five, comes between Nine and myself before we start to fight.
"You are Borg drones." he says, "You will do the will of your Queens and not engage in fighting."
Nine and I walk off in opposite directions. We were always rivals, and I never got on well with her.
----------------
A few hours later, there is banging on the doors of my Quarters. When I open it, I am greeted by two large Borg Security Drones. Between them is One of Five, with a very official and stern face.
"Seven of Nine, Tertiary Adjunct of Unimatrix 01." he reads out, "You are arrested for the murder of Nine of Ten, Tertiary Adjunct of Unimatrix 15." You will be placed on Death Row until a court date. If found guilty, you will be formerly terminated."
"I am innocent..." I start.
"Evidence has been found to suggest otherwise." he replies.
I am dragged off and placed in a seedy looking holding cell.
This is a big problem. Only two people can assist me now.
To be continued...