With the
Enterprise
all cleaned up and ready for more trips around the galaxy, I assemble the senior staff for a conference, who have all returned from their various vacations.
I've bought a smart Norwegian sweater and a troll. Someone wanted to sell me a live one from the planet Tvana, but I settled for the usual tourist version.
"Well, I have had a lovely time on my cruise." I inform everybody who are gathered, "Have you all done the same?"
There are various glum sounds from them all.
"No?" I say, "Well what happened?"
"As I mentioned." says Riker, "Deanna and I went to Betazoid to stay with her mother.."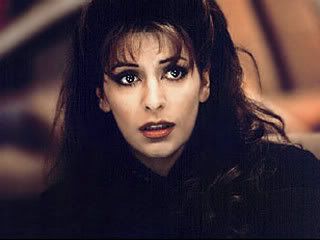 "You were so rude to her, Will" interrupts Deanna.
"Can you blame me, Deanna?" Riker says to her, "A few hours after we got there, Lwaxana took us to a wedding chapel and wanted us to remove our clothes to go through a rehearsal for a traditional Betazed wedding."
"I know my mother is a little pushy, Will.." Deanna replies, "But you should have stayed."
I sigh and turn to Data.
"How about you, Mr Data?" I ask, "Did your trip with Jennifer Baxter to northern England to visit her parents go well?"
"It did not, Captain." he replies, "Mr Baxter was most offended when I said the black pudding interfered with the working of my positronic circuits."
I try not to laugh at his comment, and move on to Geordi.
"Mr LaForge." I ask, "You mentioned that you were taking Trisha Lewis to VacationWorld. Surely nothing could go wrong there?"
"On the contrary, Captain." he tells me sadly, "There was a solar flare from the nearby sun that was there. It caused everything to go haywire. The water from the artificial sea overflowed, the theme park rides were all fusing. In effect, the whole planet was breaking down."
"Sorry to hear that." I tell him, "Now how about you. T'Pol? You went with Ensign Britney to the Raveathon Vacation Complex, with non-stop partying, extra loud music, rowdy activities and no sleep allowed during your stay. Did you two find it all too much for you?"
"Certainly not!" replies T'Pol indignantly, "We were thrown out of the complex though. The authorities said they did not want our type there as we were too noisy for them."
I have to do all I can to stop laughing out loud; there are a few supressed giggles around the table which annoys T'Pol.
"Dr Crusher." I say, "What happened on your visit to Wesley and Karena, the Amazon he is engaged to?"
"That was misery!" comments Beverly, "As soon as I got there, "Karena was ordering me about, telling me that as Wes is now engaged to be her Life Servant, there is no need for her to see my son so often. There were a few cross words said. She used that spear a few times to prod me, as well. never you mind; she had a couple of prods as well!"
"Good for you!" Riker says with a laugh.
"What about the Maquis Convention, Ensign Ro?" I ask "I know I turned a blind eye to it, as it is an anti-Federation organisation."
"It turned out to be very dull." Ro tells us, "The star lecturers couldn't make it, as they had been jailed. As a result, the caterers who made the meals were forced to give lectures on how to make their culinary dishes. We could hardly use them against the Cardassians!"
"Except in a pie fight!" Deanna says with a laugh, to which Ro looks very annoyed.
"Jadzia." I inquire, "You mentioned that you and Mr Worf would be going to your home planet of Trill. Surely that went well?"
"How could it?" wails Jadzia, bursting into tears, "I had no ideas who my relatives were, as they were all in different bodies, "My Aunt Marainne might be the female receptionist in the hotel we stopped at, or it might even be Uncle Javin."
"Well everything must have gone all right with you, Seven." I say to Seven Of Nine, "All you did was visit the Borg Queen and give her a report."
"That did not go well, Locutus." states Seven, "The Borg Queen was in a bad mood and did not wish to speak to me for most of the stay. In the end, she only accepted my report as a cursory gesture at the end, before I was ready to come back."
"Why was that?" I ask, "Did she think you had made an error while on the
Enterprise
?"
"Negative, Locutus." she replies, "I forgot to send her a card when her birthday came round a few days before I was due on the Cube."
That does it; I laugh out loud to the amazement of the staff. Seven looks piqued.
"Well that's all." I tell them, "It's good to be back..."
"What about me?" says a voice, "You didn't ask how my vacation went?"
Q appears.
Everybody groans.
"Very well, Q." I say with a sigh, "How did your vacation go?"
"I went to the
Q Continuum Holiday Resort
." he tells us, "The service was dreadful, the theme parks badly run, the shows second rate...."
This cheers the staff up.
"Glad to know that, Q" I say, "Now it's time for you to go."
"Just for now, Jean-Luc." Q says teasingly, "It is far more fun here."
He disappears and we are all ready to fly round the galaxy.
----------------
Author's note:

As you can gather, I'm back from my cruise. Thanks for all your good wishes during the TWQ. Cobh in Ireland was quiet, Iceland was sunny and impressive, Norway was beautiful, Amsterdam in Holland was colourful, and Bruges in Belgium was full of mouthwatering chocolate, as well as being beautiful.
----------
Double Schmoozer Award! :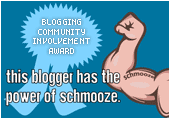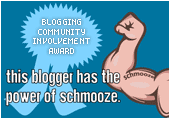 I have been been given the Schmoozer Award by two different people:
SFGirl (Nina)
and
Lansy
My grateful thanks to both for awarding me this!
Awesome Guy Award!

Not only have I got the above, but
Lahdeedah
has given me this terrific Award. Thanks so much! It's a pleasure to come back to them all!