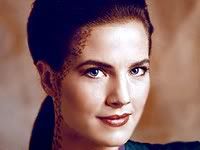 Guest Poster : Jadzia Dax

Worfie and I are posing as a newly married couple on the honeymoon planet of Gemini. We're here with Commander Riker, Deanna Troi, Beverly Crusher and Captain Picard. Married couples have been disappearing from this planet and we're trying to find out where they are.
I thought at first, with a lovely planet like this, they might not want to go home!
---------------
Worfie and I are in our suite when a blinding white light overpowers us; the next thing we know, we are in a small cell.
"So they've got you, too?" a voice says.
I turn, and see that Riker and Deanna are in the next cell. The whole area is filled with cells that have couples in them.
"It's kind of them to put us in cells together." Riker comments drily, "It looks like our honeymoon suite has been downgraded."
"Captain Picard and Doctor Crusher are not here." observes Worfie, "It looks like they may have been out of their room when the transporter beam hit them."
"I wonder where we are?" says Troi in a typically pointless comment that none of us can answer.
"You are in a spaceship heading for a new world." answers a voice from across the room. It is the receptionist who checked us in. Wearing a black cape, he looks like a typical villain whose elevator hasn't reached the top floor.
"Who are you?" asks Riker, "You should know that you have abducted four Starfleet Officers."
"And I am a member of the Klingon Empire!" adds Worfie in a threatening manner.
"What you were is irrelevant." he answers in a despotic I'm-the-ruler-of-the-universe way, "I am Valder, and wish to create a new world in my name. I am abducting honeymoon couples to serve me on Valder, where it will go prosperous and fruitful with generations of people and food."
"We've got a right one here." whispers Riker to Deanna.
"I heard that!" answers Valder, "For that impertinance, "You shall work double shifts on the rice fields for a week."
He sweeps out of the room, leaving a giant troll with a spear to guard in case we do anything.
"At the moment, I think we'd better humour him." suggests Riker, "The Captain will be searching for us. Hopefully he and Starfleet will be able to pick up our trail and rescue us."
"I hope so." I reply, "Otherwise we will all be citizens of Valder for a very long time."
To be continued...