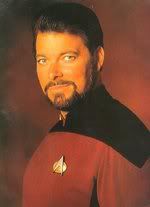 Guest Poster: Will Riker
Deanna, Worf, Jadzia and myself are in a jail cell on a spaceship bound for the planet Valder. We had been posing as married couples, along with the Cap and Beverly as the couples had been disappearing from the honeymoon planet of Gemini.
It seems this madman named Valder, who is a nut of the first order has named a planet after himself and is taking us all there so that a new world can be born.
We can only hope that the Cap can pick up our trail and rescue us.
------------------------
"We've got to find a way to break out of here." I say to Deanna and to the others who are in the next cell."
"Are you crazy, mate?" pipes up a voice. It is a man in another cell with his wife.
"Why?" I reply, "Don't you realise you and your wife have been captured by a lunatic and are on the way to spending the rest of your lives on an isolated planet."
"Sure." he tells me, "That's paradise to the missus and me. I'm Garan and the missus is Lynette. No more worries, annoying relatives, cadging from next door neighbours. It's a life of idylic splendour. Don't rock the boat for us by escaping."
I sigh.
"We're not going to get any help from the others imprisoned here." I say, "It looks like they're quite keen to go."
"Well." suggests Deanna hesitantly, "It might not be a bad idea. We could all get married and have a good life with no hassle."
I think briefly of that thought that Deanna's mother Lwaxana would not be around, then come to my senses. After all, there would be no donuts on the planet.
"DEANNA!" I exclaim, "We're Starfleet Officers. We can't go along with this!"
She sighs and agrees, saying it was just a thought she had. I wonder.
-----------
Valder comes sweeping in with his black cape again.
"Soon." he tells us, "We will be arriving at Valder! Our new world will be waiting for us. Lands of fruit, peaceful living abound, together with the daily prayers at the statue of myself I have had built."
"Sorry I thought of staying there, Will." Deanna whispers, "Valder is crazy."
The ship rocks suddenly; the troll guard tells Valder that the
Enterprise
has followed and is attacking. He hurriedly leaves with the troll.
Worf breaks through the bars during the commotion, gets the keys and releases us all.
The Cap and Beverly beam on with Security and start to take over the ship.
"I see everything is alright here, Number One." he says, "Security will capture Valder and send all the other couples back home."
"Don't do that, mate." says Garan and Lynette together.
They step forward.
"You see, Captain" continues Garan, "We've talked to the other couples on board, and it seems they are looking forward to starting a new world together. Naturally, the Valder statue would get torn down, but aside from that, we want to live on the planet."
The Cap looks perplexed.
"Sometimes villains can do the right thing without knowing it, Captain." says Deanna.
"It baffles me." he replies.
"Perhaps you have to be married first, Jean-Luc?" suggests Beverly.
-------------------
Authors note: thanks to SFGirl (Nina) for the following Award:

I'm really grateful for this; thank you, Nina.
Also,
Faberadatch
left a meme to list 8 facts about me. As
Will Riker
is doing this post, I'll leave it to him...
1: I have a donut replicator with flavours from all planets.
2: When the Cap is away, I can't wait too sit in the chair.
3: Whenever I meet Lwaxana, I have to guard what I think as her telepathic abilities might spot that she annoys me with her wedding calls.
4: Deanna likes my beard.
5: I like to send crewmen to do awful jobs as that is what the Commander used to do with me.
6: I can't stand the Cap calling me 'Number One'.
7: I also can't stand the Cap saying 'Make it so.'
8: I give the Cap subtle hints about whether it is time for him to retire.