Guest Poster: Geordi LaForge
The Federation is under attack from the Lurkers.
They are a shadowy race that exist in the darkness, watch our every move and take our secrets. It looks like they may be poised to invade when they know all of Starfleet's defence secrets.
The Captain, Beverly, Deanna, Riker, Worf, Data and myself have beamed down to a dark planet where they could be. It seemes they have found us....
----------------
The dark figure looked at us all...
"Welcome to the planet of the Lurkers; we call it Bloog." it said, "Don't expect to see a lot of light for some time, as you will be imprisoned for all of your lives!"
The Captain steps forward in his typical leader style.
"Who are you!" he says sharply.
That tone of comment is bound to get us in the deepest dungeon.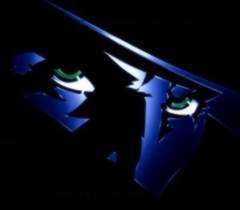 "Us Lurkers have no names." he replies, "But if you wish, you may call me Anonymous."
He laughs evilly, as we are taken to tiny cells with only a sliver of light.
"This is getting to be a habit." comments an annoyed Riker, "Only last week, we were in a cell. The new Starfleet uniform ought to have stripes on it, or maybe a bright orange."
"Take it easy, Number One." replies the Captain, "We'll find a way out of here."
"You can do it, Jean-Luc" whispers Beverly. She would say that, naturally.
I see Riker gritting his teeth in annoyance. Captain Picard's comment hardly helped, although I think he sees it as an incentive.
Man, that's leadership for you.
"I cannot bend these bars." declares Worf in frustration, "They are made of an unkown element we have not come accross before."
"Have you any suggestions, Mr Data?" asks the Captain.
This is a sure sign we are in big trouble. Whenever the Captain asks for suggestions, it means he has no idea, and we have to think of a way out ourselves.
I hope he doesn't ask me. I'm clueless.
"I have considered." starts Data, "That the Lurkers live in the darkness; therefore, their greatest enemy must be the light. If we can use it against them, we may have a chance of winning."
"Well thought out Mr Data." says the Captain after some consideration, "How many lightbeams do we have."
After a check, it is discovered we all have one, except the Captain. He looks redfaced, which is hard to detect when it is virtually total darkness.
Data and I work on them so that they produce a high potency lightbeam when activated.
After some time, we are satisfied.
"Right then." declares the Captain, "We are ready."
We'll soon be fighting back against the Lurkers!
To be continued....