As there is some time before our next assignment, the crew is relaxing by having a costume party.
It was Riker's idea that we all dress up as members of James T Kirk's
Enterprise
of the 23rd Century. A program in the holodeck has been created to resemble the Bridge of the time, and we are all going to be in time.
To make it even more authentic, we are going to temporary transfer controls to the holodeck, so that we can run the
Enterprise
we are actually on from there.
What a great idea! Could anything go wrong?
----------
Naturally, I am Captain Kirk, but though I'm sitting in the holographic Bridge, my shirt is already torn, and I am wearing a hairpiece.
Jadzia comes in.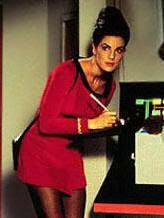 "I consider being a Yeoman very derogatory, Captain." she complains, "Could I not have had a higher position?"
"I'm sorry, Jadzia." I reply, "It seems like Captain Kirk did not have many women in high positions, "They were generally there for his weekly love interest."
Jadzia snorts in disgust.
Data enters; he is trying to talk in a strange voice.
"Good morning Captain." he starts, "I vill valk over here und assume da controls."
"Mr Data." I ask, "What are you saying?"
"I have been trying to perfect my Russian accent so that I can speak like Chekov" he answers, "But up to now, I have had little success."
Riker comes through the doors, but they are faulty, and keep opening and closing. He is wearing a blue top and has extra large ears.
"We'll have to get those doors fixed. It looks like a problem is developing." I tell him."
"That is logical." he replies, "This experience is fascinating, Captain."
I groan. I wonder if this was a good idea?
Beverly comes and smiles.
"How are you, Beverly?" I ask.
"I'm a doctor, not an answering service." she replies with a smile. Then she whispers in my ears, "I'd rather be the Captain's current love interest than this role as Dr McCoy."
We laugh with each other.
Deanna comes in a Nurse's outfit. Riker looks very impressed.
"You look good as Nurse Christine Chapel." he tells her.
"As Science Officer Spock, You are not supposed to notice that." replies Deanna, "But who knows, maybe he did?"
T'Pol comes in and sits down in Communications.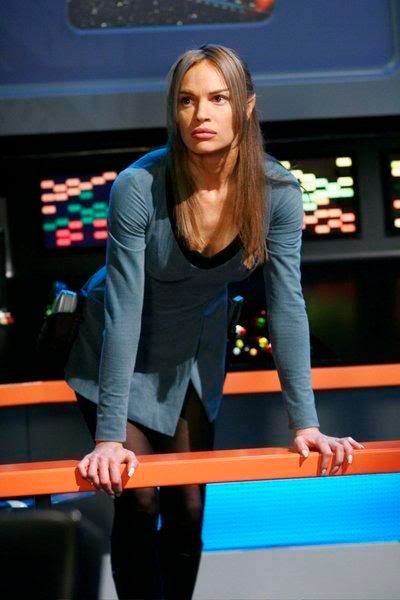 "I hardly resemble this Lieutenant Uhura." she complains, "The Terran Empire would easily have defeated this ship a century ago. This Captain Kirk seems to concentrate on women a lot."
"..And destroying the enemy without asking questions." adds Riker, "So count yourselves lucky."
I then hear Geordi's voice as he walks in.
"The ship canna take it Cap'n" he goes on, "It's against the laws of physics."
"Hello Mr LaForge." I tell him, "You do a good impression of Montgomery Scott."
Ensign Britney walks in wearing a black wig and mini skirt; she puts her chewing gum away.
"Who are you supposed to be, Ensign Britney?" I ask.
"I'm the weekly love interest." she replies.
"For me?" I say with horror.
"For
anyone
." she answers with a laugh.
Ro Laren comes on the Bridge, and complains that her role is that of a man, Mr Sulu.
Seven of Nine and Worf enter. They are both angry.
"How is it we are not participating in this, Captain." Worf asks.
"Well, it's a little difficult to find roles for you," I answer, "Klingons were err...'the enemy' back then, and as for you, Seven, maybe you would like to put a Yeoman's outfit on?"
"I will not comply." she answers quickly.
"I thought you might say that."
"Captain." Data tells me suddenly, "Something has gone wrong with the computers. We are locked in here, with the controls diverted here. Sensors tell us that a ship is on it's way and it looks hostile."
It looks like we've got a problem.
To be continued...