I knew this would happen.
T'Pol is a very agressive person,
Since we rescued her from the mirror universe, after being in suspended animation for over 200 years, it hasn't been easy with her on the
Enterprise
.
---------------
T'Pol enters my Ready Room.
"You wish to see me, Picard?" she asks.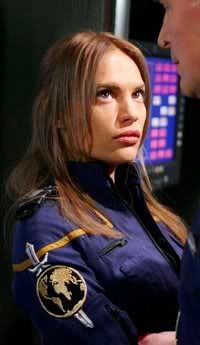 "Yes, T'Pol." I reply, "And you need to address me as 'Sir', 'Captain' or 'Captain Picard.'"
"Very well,
Captain Picard, sir
." she says with a hint of sarcasm.
"Now I've called you in here, because there have been complaints about your insubordination from various members of the staff."
"Tell me who they are and I will deal with them!" T'Pol replies indignantly, "I won't allow anyone to register complaints against me."
"Yes you will!" I tell her sharply, "This is a Starfleet vessel and you will go by the rules on it!"
"Very well, Captain." T'Pol agrees sullenly.
"Now then." I go one, "Most notably, when you were in the brig with Ensign Britney, you addressed Counselor Deanna Troi as 'Riker's Woman'. This upset her greatly."
"Why?" asks T'Pol, "That's who she is, isn't she?"
"While it is true she and Commander Riker and Counselor Troi have a err...
relationship
, that does not make her his Woman. Do you understand?"
T'Pol looks puzzled.
"This is very unlike how things are in the Terran Empire." she comments.
"Yes." I say, "You have to appreciate things are different in this universe and the Federation."
"Does that mean that Counselor Troi won't get promoted to Captain's Woman when you tire of Doctor Crusher?" she asks.
"NO!" I tell her.
"So there is no chance of me replacing Counselor Troi and becoming the Commander's Woman when he tires of her?"
"NO!" I repeat.
"Because believe me, no one would tire of me!"
I fall back in my chair, feeling a headache coming on.
"Listen, T'Pol." I stress, "Relationships in this universe are built on liking each other. They stay together for a long time."
"I think I am beginning to see, Captain." says T'Pol, "You mean love, trust, respect?"
"Exactly, T'Pol."
"I think it it would be hard for me to adopt that." she says, "I would rather be someome's Woman. Do you think if you suggested it to Starfleet, they might adopt this system? After all it worked for the Terran Empire."
"I don't think they would, T'Pol." I tell her, my headache getting worse.
"Very well, Captain." T'Pol concedes, then after some thought, "But you will tell me if it is ever changed?"
"You'll be the first to know, T'Pol." I tell her, before she leaves, and I reach for some stress pills.