Guest Poster: Beverly Crusher
Though I must admit I've been thinking of the birth of my grandaughter in March, I haven't let the fact that it is Jean-Luc's birthday on the 14th escape me.
All right. Dreanna DID remind me yesterday as I was looking through the
Babyclothes for an Amazon
website. Don't tell the Captain, please.
Our secret?
Quick as a flash, I went to Guinan to see if she could rustle up some sort of occasion in Ten Forward.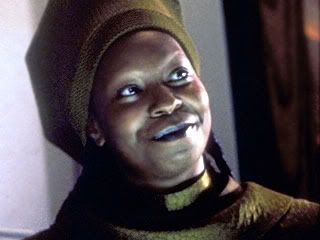 "All sorted out, Beverly" she says in that slightly sarcastic tone, "My, the human female mind to turn forgetful when babies are in the air."
---------------
Well, it's all sorted out now. Guinan has got the canapes and vol-au-vants. Jean-Luc will be visiting on the pretext of meeting me here, not knowing the entire crew is here for a birthday speech and singalong..
"Hey, Worf." Guinan calls out to the Security Officer, "Start passing out the canapes."
He looks indignant.
"A Klingon warrior does not hand out canapes!" he declares.
"Pipe down, Worf." Guinan replies, "And get serving, otherwise those bottles of Klingon bloodwine are going to make themselves scarce."
It looks like I've been put as the mastermind behind this soiree. Everybody is coming to me to ask what do do and where to go, and I am directing them like a Gdarian traffic policeman.
T'Pol and Britney come up to me, carrying a parcel.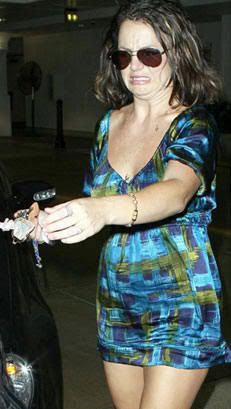 "Beverly." asks Britney, "Do you think the Captain will like this present T'Pol and I bought him."
I open the box and look in horror.
"Britney!" I exclaim. "That's completely tasteless. Why did you get something like that?"
"Well, there was this website..." she starts..
"You'll have to get something else!" I tell them, "See if you can replicate some old Shakespeare play. There's one made in 2009 with David Tennant and some other actor. He might like that."
"See, Brit." T'Pol says to her friend, "I knew it wasn't right. The Captain is so square. Let's get this boring play."
They scuttle off, and Deanna appears at the door.
"The birthday boy is one his way!" she says quietly, "Ro Laren and Will Riker are just delaying him by showing him some pointless statistics while we get ready."
"All right!" I call out, "Everybody in position."
------
"Number One and Ro." Jean-Luc says in a tired voice, "For the last time, I DO NOT want to see the Starfleet figures of the Great Nebula as viewd by the
USS Orion
. Everybody has already see..."
"HAPPY BIRTHDAY!!"
Jean-Luc groans slightly, but maintains his diplomatic smile. The Captain has never been one for excessive crowds.
Comes over and kisses me on the cheek.
"I thought we were going to have a quiet get-together for my birthday?" he whispers.
"We shall, at our quarters tonight, Jean-Luc." I tell him quietly, "This is for the crew's behalf, so enjoy it with them. Look forward to later on!"
He smiles conspiratorily as Vic Fontaine leads the crew into a "Happy birthday" chorus.
"Happy Birthday, Jean-Luc." I add quietly when it finishes, "It will be for us both."