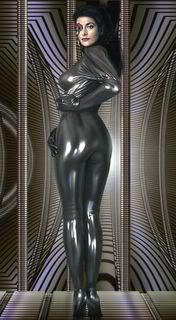 Guest Poster: Deanna Troi, Borg Queen
Oh, glory, glory!
This is truly a day for me to rejoice. I have now managed to take over the coveted role of Alpha Borg Queen from that weakling who was my predecessor. No more appeasing with the humans and going to their Christmas parties. Now that the hardline forces have taken over, there is only one word people need to know... assimilate!
There is no need for people to be booking summer vacations around the galaxy. After our Cubes pay a visit to their planets, vacations will be irrelevent.
Let me tell you about what happened from my point of view. I won't have time to tell you while I'm putting you all into the Assimilation Chamber. It's good that I've managed to find out how to use the Federation Journal. It will come in useful when the entire galaxy is Borg. I can put some recipes on as well.
It was so simple really. My hardline forces all attacked the Imperial Cube where the former Alpha Borg Queen. She scooted off in the 01 Cube with that sympathiser Borg Queen 01. Now I am in the Throne Room of the Borg Citadel.
That 'yes-Queen' really drives me mad. She is a real crawler. Both are far too moderate. Why they went to the
Enterprise
Christmas Party the year before last is beyond me. Both should have been executed for treason. You wouldn't have caught me wearing a paper hat and dancing the Okey Kokey!
Well, not I'm the Alpha Borg Queen, it's time to start assimilating. I've got the Chamber all ready for excess use.
A drone comes through.
"Set a course for the Dryan System" I command, "I want to assimilate it before dinnertime."
"Pardon me, you Majesty" says the drone, "That may not be possible."
"WHAT! I shout, "Whyever not?"
"Moderate forces are closing in on the Borg Citadel" it tells me, "The entire fleet are closing you. Communications are stating that the Enterprise has joined in with them so that you are removed immediately."
Now I am in a bad mood, and call upon two other drones to dissect the one who bought me the bad news. They'll think twice about doing that again!
Now I look on the incoming forces. Hmm...it WILL be a tough battle.
I'd better get my hair done.
To be continued....