Guest Poster: Mirror T'Pol
The shuttlecraft starts slowing down as we head to the fourth planet on the Shaq System, named Verdan. My friend Britney and I get our outfits ready, as does the amazon Karena. She has her spear all ready.
Starfleet have captured Ishtar, leader off the all-female Virago mercenaries, who have being causing problems everywhere. As Ishtar looks like me, I will be posing as the leader, while Captain Picard interrogates the real woman. I don't think she'll break, as I've heard they are rather tough.
----------------
"Now listen, you two." warns Karena, "I don't want any shenanigans. This is a serious mission."
"Don't worry, blondie." replies Britney, "When we land, I'll be fully into mission mode, won't I sistah?"
"Yeah, Brit." I answer, "Don't worry, Karena, We are really responsible when we need to be."
"That's what I've heard." comments Karena, "Captain Picard always says you're responsible."
I try not to giggle too hard at that one.
-------------
The shuttlecraft touches down on Verdan. The three of us step out. We see two women approaching us. From the file I've been shown, they are Vada and Sala, Ishtar's lieutenants. These two are gonna be the trickiest to get past, like a customs official.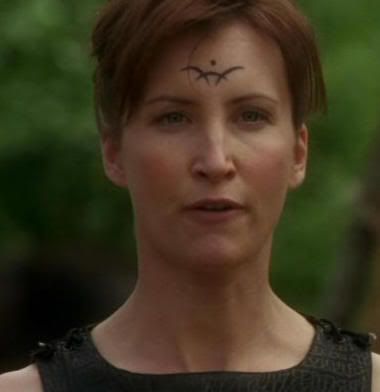 "Greeetings Ishtar." Sala says to me, then looks harshly at Britney and Karena, "Who are these women?"
"I have been most fortunate, Sala." I answer, "This is Britney, a skilled fighter, and the blonde woman is Karena, a rebel amazon. They will be a good addition to The Virago."
Vada steps forward.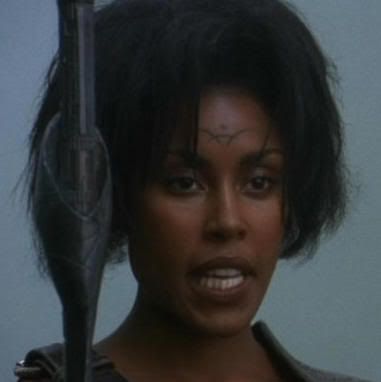 "They do not look very trustworthy." remarks Vada, "You two need to be aware that if you betray us, you will be executed. Now, come, Ishtar. Let's go to the camp."
The five of us head into the forest towards the village. Brit, Karena and myself exchange worried looks. None of us fancy having our heads on the end of Vada's spear.
To be continued after the TWQ....