What a relief the Halloween party is over.
I mean I thought it was going to be a lot of fun, but Deanna decided to come dressed as Elvira, Mistress of the Dark.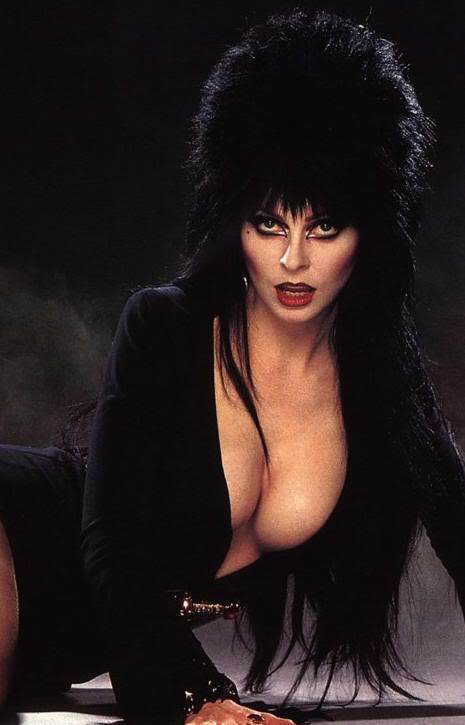 There were lots of wolf whistles, and Riker rushed forward to cover her with his Dracula cape. The two of them then had an argument outside.
"I'll come as who I like!" Deanna had shouted at him, with us all pretending not to listen outside.
"You virtually don't have a costume on!" replied Riker, "This isn't a Betazoid wedding where everybody turns up naked!"
"You don't have to worry about that, Will Riker!" Deanna stormily said, "There won't be a wedding between us!"
"What do you mean?" he replied.
"It's obvious." she sniffed, "I can't have you ordering me about like this."
With that she walked off.
------
Now it's the morning and I'm in the Captain's chair, waiting to see what has happened. All the others on the bridge are casually chatting when the door opens and Riker comes in, looking sullen.
Everybody suddenly stops talking.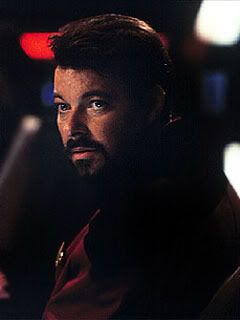 "Morning, sir." he says quietly.
"Morning, Number One." say I reply, "I hope that..."
Before I can continue, the Bridge doors slide open and Deanna comes out, with her hair arranged badly. She doesn't say anything but sits down at my left side. After a few minutes of silence, she turns to me.
"Captain." she says, "Would you kindly ask Commander Riker if he thinks my hairstyle and outfit is plain enough for his approval?"
"Counselor..." I begin.
"Captain." Riker interrupts, "Will you kindly inform Counselor Troi that I consider her appearance more than plain enough!"
I feel Deanna's fury start to increase.
This can't go on!
To be continued....