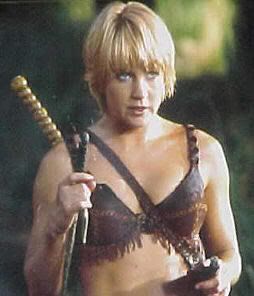 Guest Poster: Karena
As I gave my pumpkin husband Wesley permission to stop doing the ironing and shop for me a couple of days ago, I am now going to reciprocate and look for some presents for him.
Not that he needs any, of course. After all, he is a man and my Life Servant. Just having the pleasure of being with me should be enough.
No matter; as we love each other, I think Wesley does need a token of my love.
-------
I'm in the Starfleet Mall. How does one shop for a man? I'm used to getting things for my mother and sister. Getting things for Wes...that's difficult.
Hold on.....here's a store. It's called
THE MAN SHOP.
It says outside that it caters for those women who can't find the right present for their husbands.
This sounds ideal. I'll try it.
I am greeted by a Ferengi, who tells me he is the proprieter. This almost causes me to turn round. Any of race are obliged to remove a customer of their money.
"Welcome to my humble shop, great female warrior." says the Ferengi, "I am Bellas, and hope I can help you."
"I need a present for my husband." I tell him, "And beware, Ferengi. If you try to sell me any shoddy goods, you'll feel the end of this spear go from one side of your ears to the other."
This causes him to look rather apprehensive at first, but recovers his smile.
"Do not worry, my amazonian friend." Bellas declares, "All our products in
THE MAN SHOP
are of the highest quality in the galaxy."
"So I get my money back if anything goes wrong?" I query.
This question causes Bellas to look pale, as giving money back is clearly against the Ferengi Rules of Aquisition."
"That won't be necessary." he assures me, without answering the question, "All our customers leave satisfied."
Bellas starts to show me some ideas. This first thing that I see is this t shirt.
"An excellent choice, madam." Bellas tells me, "Your husband will be well pleased."
"As long as Captain Picard never sees it." I say to myself with a wry smile.
After that, I look through many other things, but nothing seems right. Despaired, I ask "Haven't you got ANYTHING else that Wesley might like?"
Bellas thinks, and goes to the back of his shop, and brings out a young woman wearing a micro-mini dress.
"What's this?" I ask, "I want a present for Wesley."
"Indeed, my amazonian friend, "When your husband sees you wearing this, he will think it is Christmas and his birthday all rolled into one."
I smile when I realise his thinking.
"Well thought out, Bellas, "I'll have one in red and blue. Double the fun!"
I leave the shop, happy with my purchases.
I think it will be a Happy Christmas for me and Wes!