Whew! What planet is this?
Why is it after every
Enterprise
Christmas Party I feel like a disaster, and so does the rest of the crew? We really ought to impose a drink limit, but there would be a mutiny if we did that.
Judging by the strength of the Klingon Bloodwines and Romulan Ales, one slight drink of those is enough to send anyone over the limit.
I stagger on my way towards the Bridge. Who is piloting the Bridge?
"Picard calling the Bridge." I say in my ComBadge. No response.
I run through the various crew members. They are all seemingly passed out. Even Commander Data cannot be reached. The last time I saw him, he was being carried off by his girlfriend Jennifer Baxter. Unfortunately, he had his emotion chip in, and was feeling the effects of excessive drink.
I then have a brainwave. At lest the Doctor and Vic Fontaine will be all right. They will be able to get everything running.
A few minutes later, I find out that they have both been in a contest to see who can drink the most holographic ale.
I guess it's just me. It always is. Why am I always the first to recover from these events?
The Bridge doors open and I see three figures sitting in the Command places.
The Borg.
"Greetings, Locutus." says the Alpha Borg Queen, who is sitting in my Chair, "I trust you are sufficiently recovered."
"Locutus was this way last year, your Majesty." says the Queen 01, who is sitting in Riker's seat. Seven of Nine is in Deanna's chair.
"Most fascinating." comments the Alpha Queen, "You must tell me why non-Borg species choose to drink themselves into a stupor every time one of these occasions arises."
"Why are you still here...err..your Majesty." I demand to know, but say it with tact.
"I was just about to depart on the Royal Cube." she replies, "But the 01 Queen informed me that all of you were unconcious due to the Party. You would have left yourself open to predators."
I smile at the irony of that statement, but realise she is saying it with a straight face.
"You should be grateful that our glorious Leader gave up some of her time to help you, Locutus." Seven tells me, "She has a conference to give to young drones called 'Assimilating
Races: The Easy Way'
"
"Indeed" the 01 Queen comments, making sure she says the right thing in front of her Leader.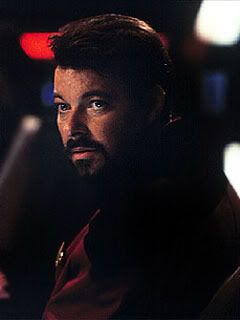 Riker then staggers on to the Bridge, walking as if he has been hit by a half pound mallet.
"Whas' goin on??" he mumbles incoherantly.
The Alpha Borg Queen rises from the Chair.
"I see that your crew is beginning to recover from the Party, Locutus." she says to me, "I shall let you take over the running again. The event has been most enlightening. Thank you for having me."
"You are welcome err...your majesty." I say.
"And Seven." the Leader says, "You are doing an exemplary job in reporting about life on board. Ensure you send them to the 01 Queen. She will then forward them on to me."
Both Seven and her boss look pleased at this accolade. As the Leader departs, the 01 Queen approaches me.
"Thank you, Locutus for having our Leader here." she tells me, "It will give me a lot of kudos and put me higher on the Borg food chain."
She holds her clammy hand on mine for a short time, but because Seven is there, proceeds no further, and instead walks out to beam to her Cube. Seven goes to regenerate in her alcove.
"Whas' goin on??" Riker repeats.
"I wonder that myself, Number One." I reply.