Guest Poster: Wesley Crusher
I've been time off from the
USS Rhode Island
and also from washing and cleaning in our quarters so that I can do some Christmas shopping for my honeybunch of a wife, Karena.
"I don't mind what you get for me, pumpkin." she had said to me, which translates roughly into "You get the right things otherwise you'll feel the end of my spear."
I'm in the Starfleet Mall. As Karena is an amazon from Wondawowman, there is only one place to go.
This shop now caters exclusively for women of that race, so I should be able to get something here. I open the door.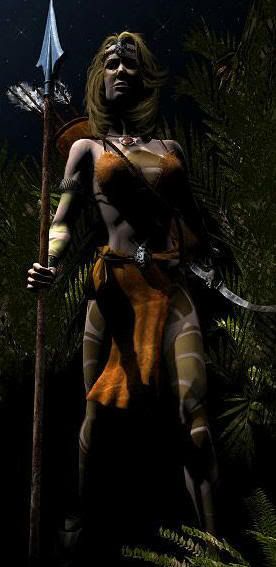 An intimidating woman steps forward and looks at me dismissively. She carries a spear and arrowd, as if she is going to go out hunting.
"Greetings." she says, "I am Helena. What can I possibly do for you?"
"You are the person who supplied my wife, Karena with her wedding dress?" I ask.
Helena's face brightens.
"Ah yes!" she says, "Karena is a good client here. She married YOU?"
"Yes." I reply, "What's surprising about that?. Now I'd like to buy her something for Christmas."
"You've come to the right place." Helena declares proudly, "Amazon is for EVERY amazon."
She goes round the back and I hear some talking. Eventually, she comes back out.
"I think we have something Karena might like. Does she need a new breastplate?"
"Yes." I say, "The one she has is always getting damaged in the holographic fights she does. Err..I managed to find out what size she takes. I had to look at the label on her plate while she was taking a sonic shower."
She goes behind into the back of the shop, and emerges with a young woman an an amazonian costume.
"This is Britta, my model for the costumes we have." Helena tells me, "What do you think about the breastplate?"
"It will look good on Karena." I say, "But Britta is a litlle err....more....endowed. Will it fit Karena?"
"We at Amazon think of everything!" Helena says in a smug manner, "There are adjustable straps and hinges on the sides to fit amazons of all shapes and sizes."
"I'll take it." I say, "And I'll have Britta's sword as well."
"Karena is lucky." Helena says, "Few amazons get a man who buy the right thing."
I leave the shop, happy with my purchases and the fact my ego has been buttered up.