Guest Poster: Ensign Britney


I'm sitting in the brig, which I'm getting to know quite well. I've had it decorated, and it looks quite stylish. A home away from home, one could say.
"Visitor!" barks out the guard, who enters the room.
T'Pol walks in. Always a pleasure to see my very best friend.
The guard lets the forcefield down, so we hug and exchange greetings.
"Great to see you, soulsista!" I say.
T'Pol reciprocates, and I ask how things are getting on.
"Things are a little dull without you, Britney." she answers, "It's always livelier when you are around."
"It might account as to why I'm here now." I reply.
"Just what DID you do?" she asks.
"They're so particular." I complain, "Just because I hit someone for saying I shouldn't chew gum. Rules and regulations are quoted to me and I get thrown in here again."
"That reminds me." T'Pol comments, "I've got this new style chewing gum with me. I found it in a shop in Tarius VI. It's supposed to be a whole new flavour."
"You're a fab friend!" I exclaim, and put the supply in the secret compartment of my Dr Martens boots.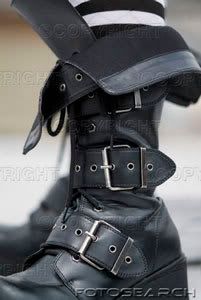 "I do have a problem." T'Pol muses, "Where are we going to go on vacation this year?"
"What's the prob, sistah?" I reply.
"No one will have us, Brit!" she exclaims, "We are so rowdy, we have been banned from all the clubs and holiday complexes. Word of our behaviour has spread to all the planets. Whenever they hear the names T'Pol or Britney, they all groan and stop us."
"There must be
someone
who will have us." I say in desperation.
"As a last option" T'Pol tells me, "I called the
Anything Goes Resort Planet
, where there are no rules and people can do what they like all day long."
"What did they say?"
"They told me that they don't want our sort there, as we would cheapen them. The manager said that although there are no rules, they DO have standards."
"Charming!" I say, "Don't worry, sistah, there must be SOMEWHERE in the galaxy that has not heard of T'Pol and Britney."
"We'll find it, Brit." T'Pol replies.
The guard comes in to tell us that Visiting Hours are over. T'Pol leaves, and the force field is restored.
"Keep looking, sistah." I call out, as she leaves, "Some place will get a surprise this summer!"