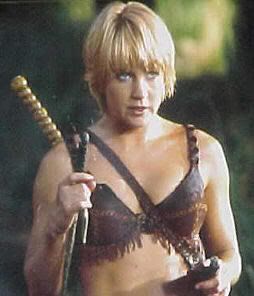 Guest Poster: Karena
So my pumpkin, Wesley and I have finally made it on to the
USS Rhode Island
as fully fledged Ensigns. So has that awful Andorian woman, Tarah, but as I despise the girl for making eyes at my Wes, I don't want to speak about her.
Captain Erika Hernadez sounds a reasonable woman. It pleases me that she is in charge, as I can take orders from a woman much more than a man, being an Amazon, and having grown up as a Princess in a society on the planet Wondawowman where the woman is always right.
Well she is, after all.
What disturbs me is Commander Mark Hathaway. He seems to leer at me in my Amazonian outfit, and tends to wink at me when Wes isn't looking as we walk to where my quarters are. He also leers at Tarah.
Well he can leer at her as much as he likes, but if he comes near me, this spear will go where the sun doesn't shine.
After he escorts the three of us, the Commander smiles at me.
"I'd be delighted to give you a
personal
tour of the ship, later on, Karena, if you wish." he says when Wes is out of earshot.
"That won't be necessary, Commander." I tell him sharply, "My fiance Wesley and I are more than capable of finding our way around the ship."
Hathaway gets the message.
"I'd better see how Ensign Tarah is getting on." he comments.
"You do that, Commander." I reply, "You're bound to have better luck with her."
---------
While my pumpkin and I are together, unpacking, he seems so excited by it all.
"Gee, honeybunch." he exclaims, "Everybody is so helpful on here. Commander Hathaway seems to like us."
Poor Wes has no idea.
"I'm not sure about that, pumpkin." I say, as I put my battle armour and shield in the wardrobe.
"We could go with Tarah and the Commander on a double date if you like."
"Whatever made you come up with that?" I ask.
"Tarah just sent me a message while you were in the bathroom."
I become enraged.
"Now look, Wes!" I tell him patiently, for men can be so slow, "I don't want you going anywhere near that Tarah, do you understand!"
"Sure, honeybunch." he answers, "Whatever you say."
"Just remember, Wes." I say, "Commander Hathaway and Tarah are well suited. They both only want one thing, and they're not getting it off us."
The door opens and Tarah appears.
"Are you lovebirds coming to dinner with Mark and I, then?" she asks, "He says you can sit with him if you like, Karena."
Angrily, I grab my spear and throw it, but it just misses her, and Tarah runs off.
"I take that as a 'no', then, Karena." Tarah comments from outside in the corridor, "You missed me by quite a bit with that spear of yours."
"If I had been planning to hit you." I reply sharply, "You would have been pinned against the wall. Enjoy your dinner Tarah."
The Andorian looks alarmed and disappears quickly.
I kiss Wesley and say, "Well, we seem to be settling down now, on our new ship."
---------------
Author's Note:


Another cruel meme, this time from
Novy
1: Ten years ago I was: Still Captain of the USS Enterprise. No one will promote me to Admiral!
2: Five things on today's To Do List:
A: Having morning cup of Earl Grey
B: Go in the holodeck
C: Do some time on the Bridge
D: Work on Spacebook on the computer.
E: Go on a date with Beverly Crusher
3: Things I'd do if I were a billionaire:
We don't have currency in the Federation, which accounts for me never getting a salary slip.
4: Three Bad Habits:
A: Keep saying "Make It So."
B: Doing the 'Picard Manouvre' of adjusting my uniform.
C: Keep calling Riker 'Number One'.
5: Five Places I've Lived.
France, Starfleet Academy,
USS Stargazer, USS Enterprise
, Borg Cube.
6: Five Jobs I've had in Life:
Starfleet Cadet, Starfleet Captain of
Stargazer
, Starfleet Captain of
Enterprise
, and various ranks in between