Guest Poster: Erika Hernandez
"So who are our new new victims....I mean Ensigns?" asks Commander Mark Hathaway, as the two of us walk towards Transporter Room 3 of the
USS Rhode Island.
"An interesting trio, Commander." I reply, "One is a male prodigy, the son of the
Enterprise
Doctor, another is his fiancee, who is an Amazonian warrior, and the other is an Andorian woman named Tarah."
"Fascinating!" exclaims Hathaway, "I wonder which of those two women I'll have as my weekly love interest?"
"Now you can stop that right there, Mark." I tell him, "You should stop trying to model yourself on James T Kirk. I know he's your hero, but the
Rhode Island
is losing staff because of you."
"Why is it my fault?" he asks.
"Firstly, you take them on perilous Away Missions." I answer, "Some so hazardous, you might as well give them red shirts and paint targets on them like Kirk used to do. That's not all. A lot of the female Ensigns are away for medical reasons. They're on maternity leave!"
"I can't help it if they like me, Erika." he smiles, "You know you're the only one for me."
"You can forget that, Mark!" I reply sharply, "After you went chasing that young Maravian Ensign, you're not coming near me again!"
The two of us get to the Transporter Room. The three Ensigns beam on. I walk forward to greet them.
"Welcome to the
USS Rhode Island
!" I say warmly, "I'm Captain Erika Hernandez, and this is Commander Mark Hathaway."
"Gee!" says Wesley to the Amazon, "It looks just like the
Enterprise
, doesn't it, honeybunch?"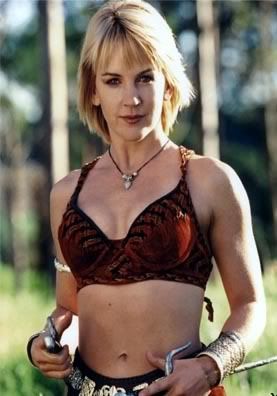 "Indeed it does, pumpkin." she answers.
"Hi, Captain." he says to me, "I'm Ensign Wesley Crusher, and this is my fiancee Ensign Karena. The other Ensign is Tarah."
Hathaway whispers in my ear, "I love the skimpy outfit the Amazon is wearing, but should be be waving that spear around?"
"Yes, Commander." I reply quietly, "She is allowed to wear cultural dress and anything that goes with it, which her spear counts as being. See that the crew are made aware of this."
Tarah overhears what we are saying,
"Actually, she's a primative, Captain." she tells me. This enrages Karena who starts to fight Tarah.
I order them to separate, and tell them that I will not stand for fighting on my ship.
The three of them go off, the two women clearly seething at each other.
I can see I'm going to have some problems with those three!