Guest Poster: Data
I am suddenly activated.
I find myself in a laboratory that is clearly set in an underground cave. Next to me is my girlfriend Jennifer Baxter, who looks rather attractive in a black leather outfit, and has a bag of guns with her. She is looking rather pleased.
"Yeah!" she shouts, "I knew I could do it!"
"Jenny." I ask, "What is going on? The last thing I remember is being beamed off the
Enterprise
and switched off by someone before I could do anything."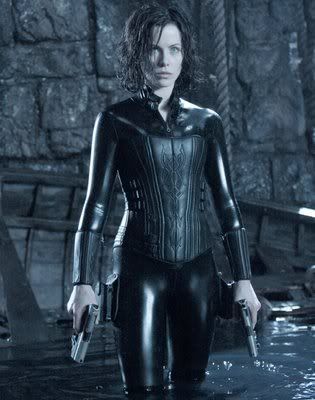 "That
someone
was your brother Lore." she answers, "He took you apart, hoping to spread your pieces around the galaxy, just keeping vital parts for himself that may break down. He faked the calls from the Staros so the
Enterprise
would go there. Fortunately he didn't know I had read the book 'How
to Assemble a Positronic Android.'
Right now we have to get out of this laboratory, which has a force field.."
"That could be difficult, Jenny." I tell her.
"Actually, Data." she says, "I was hoping your electrical circuits might be able to help in that direction."
"You are right." I reply, "However a wire routing could either short circuit the forcefield system...or my positronic brain."
"Then we'll have to make sure we get it right, sweetie." Jenny answers confidently, "I did read the
'Advanced'
section in the book. Get the top of your head open."
I do what she asks, though I am slightly concerned regarding her ability. I am somewhat reluctant in having my brain short-circuited.
The wire from the door power block is attached to my brain. I feel a sudden sizzle, but in a moment, I am still functioning. Jenny throws a brick through the doorway and confirms that the forcefield is down.
"Right." she says, "It's time to get Lore."
The two of us run through, but he is nowhere to be located. We head toward the exit, only to be greeted by Captain Picard, Doctor Crusher and the rest of the
Enterprise
crew.
"Well done, Ensign." the Doctor says with a smile, "I see you have Data back in one piece."
"He is now." Jenny answers, and procedes to tell everybody about Lore.
"Well there is no sign of him here." the Captain comments, "He must have seen us coming on his long-range sensors and got away in that Escape Pod. It would have been small enough to prevent us detecting it."
"That is most unfortunate, Captain." I state.
"Indeed, Data," he answers, "Although the Escape Pod has saved many starship lives, it was not created to let criminals get away. I fear you have made an enemy today, Ensign Baxter."
"That's fine by me, sir." Jenny answers, "If Lore comes anywhere near me or Data, he'll be sorry, and end up ventilated."
I think Lore would be wise stay well clear. Jenny is not the sort to be pushed around.