Editor's Note:
Katherine Pulaski, former doctor on the
Enterprise
has escaped from the penal colony she was in and has managed to brainwash Deanna Troi. As a result, the Counselor has locked the ship on course for the nearest star, and is sitting in the Captain's chair on the Bridge She has put force fields all around so it cannot be entered.
----------------
Beverly and I are sleeping when the Emergency Video Monitor goes off.
"What's the matter at this time of night? I say to it grumpily.
"Sorry to wake you sir." says a desperate Riker, "It looks like Deanna has gone crazy and is flying the
Enterprise
into one of the local suns."
It's little snippets of news like that which can really wake someone up. Bev and I both put on our uniforms; we do it in such a hurry, I almost put her tunic on. Fortunately she stopped me just in time.
The two of us step out, and I put my "Report, Commander Riker." voice on.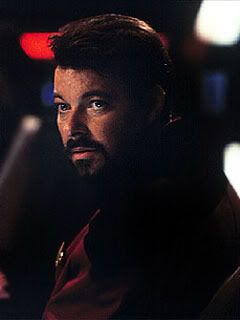 "It looks grim, sir." he tells me, "Deanna was the Commander for the night shift. It seems she told all others to leaver the Bridge, she changed all Command codes to herself, put a force field around the Bridge and locked the ship on course for the sun."
I can tell it's starting to get a little warm around here. The sort of temperatures we expect when lying on the beaches of Risa.
"I need to talk to her." I say, "Can you establish a videolink?"
"I will try, sir." Data answers, "But it will only work if Deanna Troi wishes it to."
The link is accepted, and on a monitor, I see Deanna sitting casually on the Captain's Chair.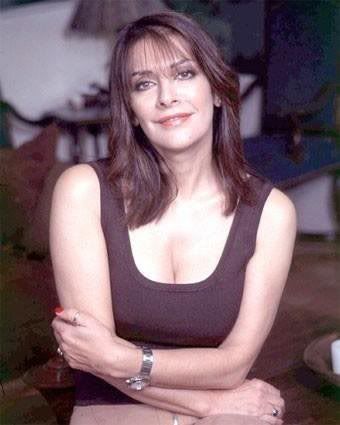 "Hi there, Jean-Luc!" she exclaims, "What's cooking, besides you and the
Enterprise,
that is!"
She has a long laugh to herself about that remark.
"Counselor Troi." I say sternly, "What do you think you are doing?"
"Oooooh!" Deanna answers in a giggle, "
Counselor Troi
is it? Very well,
Captain Picard
, here's the deal. We are gonna agree on a few issues before I turn this ship around."
"I don't deal with people who threaten the safety of this ship." I tell her.
"You're gonna deal with THIS one, Cappy." she replies huffily, "Otherwise it's frying tonight!"
"You'll go as well." I point. out.
"A small price to pay." Deanna answers uncaringly, "This is what you'll do. I will turn the ship around and you will voluntarily all beam yourselves on a tiny M-Class asteroid. I shall then have the
Enterprise
to myself, and will go to pick up Katherine."
I snap on this crumb of information, although I can guess the answer.
"Katherine? Katherine who?" I ask sharply.
"Katherine Pulaski, of course." Deanna casually admits, "She had this beautiful device that freed my mind and allowed me to see myself outside Starfleet. We will get so much for the scrap we can sell this awful ship for."
"No deal." I say sharply, as if I'm on a quiz show, and shut the viewer off.
"We've got to get on the Bridge." I tell the senior staff who are with me, "We need to be able to put her mind right. Pulaski managed to brainwash her before she got here."
"Even if we got one person on, how can we change her?" Ro Laren queries.
"A Vulcan mind-meld may do it." I say, and all eyes turn to T'Pol.
To be continued......