My whole ready room is filled with noise and shouting, every member of the senior staff trying to talk above the other.
Ever since Starfleet put the word out that there are likely to be redundancies across the board, the crew have been thrown into a panic
I try to call order, but my voice cannot be heard. Bev gets a dreinking close and taps it loudly on the table. The noise goes over everything.
"Quiet for the Captain!!!"
she yells out next to my ear.
I stand up and address them all when the ringing has gone from my ears.
"Now I know that you are all concerned." I start, "At this moment, we don't who what will be happening...."
"Too right!" says a female voice from the back that sounds very much like Lieutenant Britney. Others start making various complaining points.
"What about me?" protests Alyssa Orgawa, "I haven't been here that long. Is it going to be 'last in, first out'? I'm too young to be on the galactic dole queue.."
"I suppose they will be switching me off to save money!" grumbles the holographic doctor.
"There is a chance I may not be required also." Data calmly comments.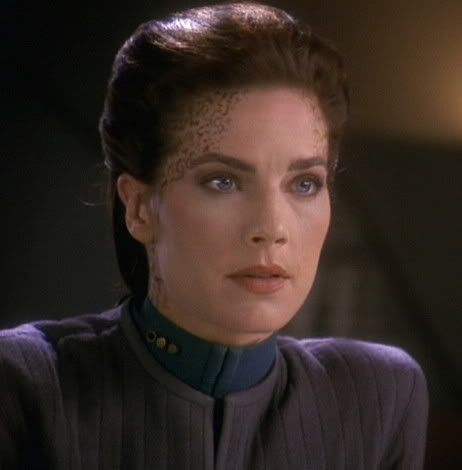 "What if Worfie gets the push?" Jadzia points out, "What will I do? There are a lot of couples here whose lives will be disrupted because of this."
A huge amount of talking ensues at this comment.
"You have a good point there, Jadzia." I say, "We need to be sure that the lives of couples and familes are not broken down as a result. I'm sure the person who comes to do the one-to-one with us will take that into account"
All of a sudden, I get a message, which I pass on to the others.
"I have just had word that the interviewer from Starfleet has arrived, and is now on board,"
To be continued after the TWQ........