Guest Poster: Worf
As Jadzia, and my son Alexander have lived together in my quarters for quite a while now, something has occured to me that I need to do.
I should ask, and want to ask Jadzia to marry me.
This is extremely worrying. It's so easy in the Klingon Empire. A warrior goes up to his chosen woman and says "You will be my bride.", drags her away and that's the end of the matter. So easy and romantic.
However, Jadzia is a Trill, and I know would expect more than that, and might actually turn me down. The fact that she has been a symbiont in a male Trill body is a little bewildering, but as I am convinced that Jadzia is all woman, I have chosen her.
I have considered asking the advice of others. Normally, I member would go to see the Counselor Deanna Troi about such a matter, but it could be rather delicate, as Deanna and I were lovers before I met Jadzia. There were a few ugly fights between the women before the matter was resolved. I would hate that to start up again.
Commander Riker walks down the corridor.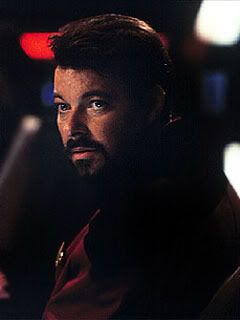 "Commander." I say, "There is a delicate matter with which I want to discuss with you."
Riker looks alarmed.
"Perhaps you ought to see Deanna." he answers, "Or if it's a medical matter, Doctor Crusher."
"It's not like that." I tell him irritatingly, "The fact is I have decided to ask Jadzia to marry me, and I wish to know the best way of going about it."
Riker smiles mischievously.
"You sly devil, Worf!" he replies with a laugh, "Well I can tell you this, all women love romance, so give Jadzia an extra helping of it. Flowers, romantic dinner, soft music, down on the knee, show the ring and proposal."
"But I am a Klingon warrior!" I protest.
"Well if you want Jadzia." Riker answers, "You'll have to do it."
"Very well." I say, "Thank you for your advice, Commander."
I walk away thinking. First stop, the
Enterprise
Florist, then to choose the soft music...
To be continued...