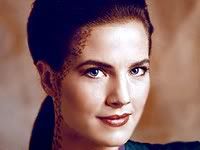 Guest Poster: Jadzia Dax
This is a rare treat..
Having obtained
Commander
status, I have been given the opportunity to look after thship and run it from the Captain's chair during the
graveyard shift
, when most of the crew is sleeping.
All right, I know it's at a time no one else wants to do it, but out there in space, there is no such thing as day and night. We artificially create it here so that people can live naturally. I guess we've been lucky that we have most problems with aliens during the day period. I wonder why that is?
I look upon the video screen whie eating some potato chips; suddenly the sensors spring into life. A Borg Cube is upon us. I alert Captain Picard, who sounds very dozy. Inh the background, I hear Beverly Crusher complaining.
As I wait, a figure beams on to the Bridge,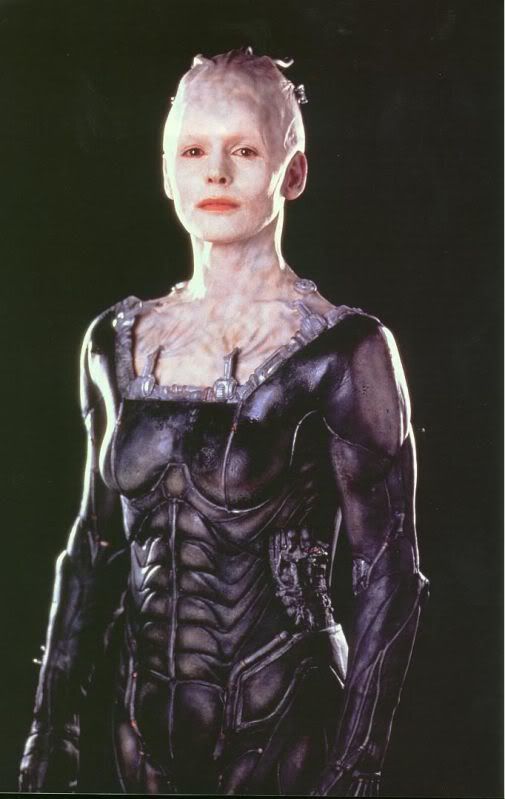 "Now see here, Locutus.." the Borg Queen begins, "I've had a complaint from Seven that her consiousness isn't being given enough time to......where is Jean-Luc?"
"He WAS sleeping until you turned up, Queenie." I tartly answer, "It is night here on the. I have woken him up and he'll be with you shortly. I'm Jadzia Dax, and am commanding the ship at this time."
The Borg Queen shrugs her shoulders. "Day and night is irrelevent." she states, "Out here in space, there is no such thing."
Suddenly the ship grinds to a halt. All the lights and computers go off.
"What's happened?" asks Queenie.
"I don't know." I reply, "From what I can tell, there is a systems breakdown with only Life Support functioning. Communications are down, doors cannot be opened, and there is no way to control the ship, except perhaps in here, once we get things sorted out.
"Then that means...." Queenie trials...
"Yes...only we can fix the ship."
Groan. I could have done with a better helper than the Borg Queen!
To be continued after the TWQ.........