Guest Poster: Jennifer Baxter
This doesn't look like it's going to be my day. After a simple Away Mission with Ro Laren, it looks like the two of us will be viewing the end of the universe from a parallel one which we were drawn into while in a shuttlecraft.
Commandader D'Arta of the Vern Armed Forces is a complete universe-destroting nutcase. He wouldn't win any beauty contests either, unless all the contestants happened to look like those found in Roswell in 1947. Even then a dead one would probably win against him.
Anyway, he's sending a tri-cobalt megatron bomb through to our universe to do the damage. I think it sounds worse with a fancy title, though I wouldn't like to be around when it goes off.
-------------
"What are we gonna do, Jen?" says Ro as we are led away by a couple of minions. I think that is fast becvoming her catchphrase..
"I don't know, Ro." I reply, "But I know we've got to destroy the energy dampening field so the my multi-phase disruptor can get to work. We can't let that bomb go off."
We get thrown in the jail. Time for Ro and I to discuss strategy. Two guards stand outside.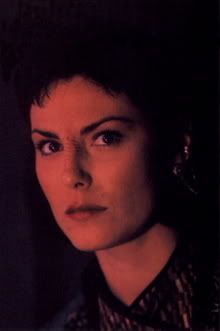 "We've got to do something, Jen!" pleads Ro, "We can't just sit here and watch our universe burn to a cinder."
"Calm down, Ro." I tell her, "I think we'll have to use Operation Honeytrap."
"What's that?" she asks, and I whisper it to her.
A few moments later, I seductively call out to the guards.
"Hey fellas." I start, "Would you like to keep two lonely women company? You both look so hunky and strong. Ro and I are keen to have fun with you."
A few seconds later, the two alien minions come in, obviously very eager.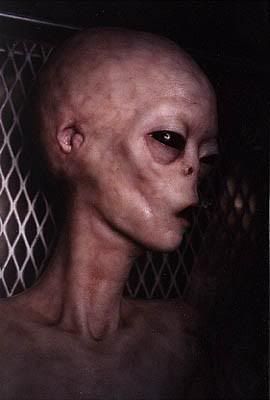 Ro stands there, about to but her arms round one, while I hide behind the door, knocking one unconsious. As the other one turns round, Ro hits him and lays him out.
"Well done, Ro!" I tell her, "Let's get that dampening field switched off. It must be on the Bridge."
We head that way, careful to avoid any of the Vern race. As we near the Bridge, we see a notice on a doorway.."DAMPENING FIELD CONTROL"
"Very convenient." I comment.
We look around and see that there is an OFF, an ON and a SELF DESTRUCT.
"I think we'll go for the last one." Ro says, and we both laugh.
We run out of the room just in time for the machine to blow up. I look at my disruptor and smile. It's ready to work again.
A voice over the speaker announces "Bomb countdown in progress."
"All right, Ro." I say, "Time to save the universe."
To be continued...