"We are ordered to accept the person just arriving, sir" Data tells me from the Com, "Starfleet has said he should be treated like a visiting dignitary."
"Does that mean I can't put him in the airlock, Number One?" I say to Riker quietly.
"At least not for 24 hours, Captain." he answers with a smile.
"I think I can wait until then." I say, "Although frankly with some of the visitors we've had in the past, I've felt like putting them in an airlock or straight in the photon torpedo tube and firing them into the nearest sun."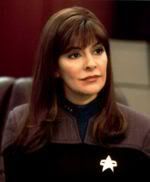 "That's not a very productive attitude, Captain." lectures Deanna, "If you ever feel stressed about some of our visitors, then perhaps I need to book you in for a session in my clinic where you can talk..."
"I don't need that, Counselor." I tell her, "It's just that some of these guests are enough to drive anybody crazy."
-----------
We wait for the guest to beam himself over.
The guest appears to have 50% more teeth than the average human.
"Greetings, Captain Picard." he says, "I am Merrick, the Starfleet Log Official."
"What can I do for you?" I ask.
"Well, we've received reports that some Logs may be used to record their own thoughts, instead of official listings of actual happenings."
"I'm a little confused Mr Merrick." I tell him, "I thought that Personal Logs were meant to record the individual thoughts of the person who owns the log."
Merrick laughs.
"Whatever gave you that idea, Captain?" he answers, "No, Logs are going to be handed in to Starfleet so that we can check your activities. It's a new directive that we are trying out."
"But they are private!" I protest, "Some of them may contain some err...very personal thoughts."
Merrick's eyes brighten up.
"Then I'll look forward to reading them!" he answers.
Deanna Troi and Beverly Crusher overhear this conversation, and both look aghast.
"I can't have my relationship with Will Riker known to every little pen-pusher in Starfleet." Deanna wails.
"We all have personal lives that are recorded in our Logs, Mr Merrick." I tell him in a manner just below tolerance, "We can't have everybody knowing all the facets of what we do. We have to have some privacy. Is there anything we can do?"
"Well you can always protest to Starfleet." Merrick answers offhandedly.
"Maybe I can persuade you to change you mind?" Deanna says, "Come this way and I'll show you around the ship."
--------------
An hour later, Merrick has beamed off the ship, but hasn't taken the personal logs.
"You did very well in convincing Merrick not to take the Logs, Counselor." I say to Deanna, "What did you say?"
"Oh, nothing much." she replies calmly, "But my tour of the ship did include a visit to an airlock and a photon torpedo tube."